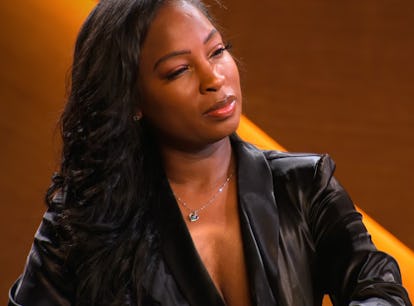 Lisa Is Surprised This Couple Actually Got Engaged On The Ultimatum
Netflix
Spoiler alert: This post contains spoilers from throughout Season 2 of The Ultimatum.
Lisa may have only been around her Ultimatum Season 2 castmates for a few days, but that didn't stop her from forming some very strong feelings about them. Especially Riah. After she noticed Riah getting close to her boyfriend Brian, Lisa hurled insults at her while screaming at Brian, claiming that Riah's relationship with Trey was clearly not as strong as the other relationships. And that's something Lisa still believes after the show, despite Riah and Trey getting engaged.
Lisa tells Elite Daily that she definitely didn't think Riah and Trey's relationship would last, let alone lead to an engagement. "I'm not going to lie; I was surprised," Lisa tells Elite Daily. "I was surprised that an engagement came out of it. That's all I have to say about that."
But it wasn't all she had to say. During the reunion, Lisa laid into Riah yet again, saying that she has no regrets in calling her out on the show and that she still doesn't feel her relationship with Trey is authentic. Although, interestingly enough, when hosts Nick and Vanessa Lachey asked the group members who they were most surprised to see get engaged, Lisa said Roxanne.
As for her own relationship, Lisa and Brian revealed that they are still together after The Ultimatum, making Season 2 the show's greatest success as every single couple ended up together. However, Lisa and Brian also revealed that they are putting a pause on the marriage conversation for the time being as they focus on their newborn son, Mason. Memorably, Lisa found out she was pregnant with Mason early in The Ultimatum process and pulled out of the show after taking a pregnancy test.
Riah and Trey also ended up together and confirmed they are in the early stages of planning their wedding. During the reunion, the couple shared that they are aiming for a huge wedding ceremony in 2025, which will be entirely gold, per Riah's wishes.