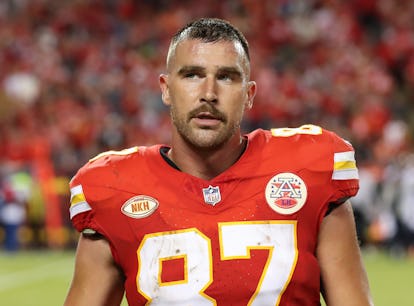 What's Travis Kelce's Favorite Taylor Swift Song? An Investigation
Apparently, he's a 1989 stan.
Icon Sportswire/Icon Sportswire/Getty Images
Travis Kelce and Taylor Swift's romance started when he went to her Eras Tour show at Arrowhead Stadium in July. Afterward, the Chiefs tight end repeatedly declared his crush on Swift — making it clear that he liked what he saw at the show. (Considering it's predicted to become the highest-grossing tour ever, Kelce's not alone in his enthusiasm.)
On The Pat McAfee Show on Sept. 21, Kelce reflected on his experience at the concert. Apparently, he was eager to show Swift his own skillset, prompting him to invite her to his Sept. 24 game: "I told her, you know, I've seen you rock the stage in Arrowhead [Stadium], you might have to come see me rock the stage in Arrowhead and see which one's a little more lit," he said, per E!. "So, we'll see what happens in the near future."
Of course, Swift took Kelce up on that offer, and the rest is history. But there is one mystery that remains: What song of Swift's is Kelce's favorite? He hasn't publicly shared his Swiftie playlist yet — although he *was* filmed dancing at a Texas bar to "Love Story (Taylor's Version)" on Oct. 27.
These are fans' best guesses about Kelce's top track, based on interviews, videos, tweets, and his go-to warm-up songs.
"Blank Space"
In a Nov. 20 interview with the Wall Street Journal, Kelce talked about experiencing the Eras Tour IRL — and potentially revealed his favorite song by his now-girlfriend. "'Blank Space' was one I wanted to hear live for sure. 'I could make a bad guy good for the weekend.' That's a helluva line!" he told the outlet.
"She writes catchy jingles," he added, referring to Swift's sick beat. But now that he's in a relationship with her, Kelce said he has been paying more attention to the lyrics (yes, the breakup songs, too). "I've never been a man of words. Being around her, seeing how smart Taylor is, has been f*cking mind-blowing. I'm learning every day," he added.
"You're On Your Own, Kid"
Considering Kelce and Swift's story started with a friendship bracelet, there's a good chance he's got a fondness for Swift's "You're On Your Own, Kid." The lyrics go: "Everything you lose is a step you take / So make the friendship bracelets / Take the moment and taste it / You've got no reason to be afraid."
The song inspired thousands of Swift fans — Kelce included — to bring friendship bracelets to the concert, trading them amongst each other. On July 26, a couple of weeks after attending Swift's show, Kelce discussed his planned meet-cute on his New Heights podcast: "I was disappointed that she doesn't talk before or after her shows because she has to save her voice for the 44 songs that she sings... So I was a little butthurt I didn't get to hand her one of the bracelets I made for her." (He put his phone number on the bracelet to give to her.)
"Vigilante Sh*t"
Kelce definitely seems like a "Vigilante Sh*t" stan. On Sept. 27, he was photographed wearing a friendship bracelet with the song title spelled out. The song is all about getting revenge on someone who wronged you — not the most romantic pick for Kelce's favorite, but Swift's live performance of the track on the Eras Tour might be the steamiest moment of her concert.
Some fans think the song could have played a role in Kelce's crush on the singer. Traylor fans know that Kelce's first attempt to get Swift's attention happened at her Eras show in Kansas City in July. As one Swiftie noted on Twitter, "travis saw taylor doing the vigilante sh*t performance on 7/7 and was down bad and tbh he's so real for that." (Kelce actually saw the song on July 8, but the point stands.)
"Love Story (Taylor's Version)"
Kelce's an unabashed fan of "Love Story" — both Swift's OG song and the remix. He's been filmed more than once jamming out to the track. A video of the tight end, reportedly taken back in February (before they started dating), shows him dancing and singing along to a "Love Story" remix.
Then, on Oct. 27, Kelce was filmed enjoying the song at a bar in Arlington, Texas, following the World Series game. In one video from the night, he was dancing to the song with his friend. In another, he seemed to be filming himself singing the song — and per Entertainment Tonight, fans think he was taping the moment to send to Swift herself.
"Shake It Off (Taylor's Version)"
Kelce is definitely a 1989 stan — when he and Swift made their first public appearance, he even wore a 'fit that was a 1989 Easter egg. (Kelce's white and blue denim set was called the 1989 Bedroom Painting Set from Kid Super.)
It only makes sense that the album's lead single, "Shake It Off," would be one of his favorites. Plus, on Oct. 27, Kelce danced to "Shake It Off" during World Series Game 1. (However, after the Denver Broncos beat the Chiefs on Oct. 29, they trolled the team by playing "Shake It Off" — so perhaps the song has lost its appeal for the tight end.)
"Shake It Off" also happens to be the favorite of Kelce's mom, Donna Kelce. "I think probably 'Shake It Off' — we're getting a lot of that lately, about haters," she told the Got It From My Momma podcast in an Oct. 6 episode.
"Bad Blood (ft. Kendrick Lamar) (Taylor's Version)"
As a 1989 stan, Kelce's likely a fan of "Bad Blood" — specifically, the remix featuring Kendrick Lamar. ICYMI, in January, Kelce collaborated with Apple Music to share his go-to warm-up playlist. The playlist had a ton of rap on it, including "Silent Hill," a song by Kendrick Lamar and Kodak Black. It only makes sense that he'd be a fan of Swift's collab with the rapper, too.
This article was originally published on