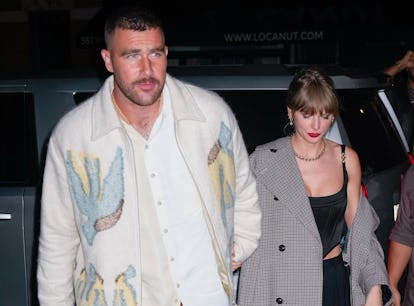 Fans Think Travis Kelce Studied Taylor Swift's Lyrics Before Dating Her
Who's the real "Mastermind"?
Gotham/GC Images/Getty Images
Introducing Miss Americana and The Heartbreak Prince, aka Taylor Swift and Travis Kelce. Since Swift's first appearance at Kelce's football game on Sept. 24, their romance has been taking over the internet, one photo of smudged lipstick at a time. So far, their relationship seems so much like a storybook that Swifties are starting to wonder if someone did their homework beforehand. On TikTok, fans are convinced that Kelce's been studying up on Swift's lyrics in order to date her.
"I am convinced that Travis has a notebook where he took notes as he listened to every single song that Taylor has ever written," one fan wrote on TikTok. Another wrote, "Taylor has been writing a handbook for the person willing to listen for the longest time and he's definitely taking notes."
TBH, they've got a point. So far, Traylor's romance has seemed a lot like Swift wrote it herself. On Sept. 24, when they made their first public appearance, leaving Arrowhead Stadium together in a ~getaway car~, one fan on Twitter noted, "this is so taylor swift coded i know she's eating this up right now."
Since then, their relationship has only gotten more and more Swift-coded, prompting fan theories about Kelce's playbook — and they might be onto something. "Mr. Mastermind definitely studied," one noted. Here's all the proof they may just be right.
Travis Made Taylor A Friendship Bracelet
Kelce famously got Swift's attention by publicizing his failed attempt to give her his phone number on a friendship bracelet. ICYMI, at Swift's concerts, fans often trade friendship bracelets as a reference to a now-famous lyric in Swift's song "You're On Your Own Kid." In it, she sings:
Cause there were pages turned with the bridges burned / Everything you lose is a step you take / So make the friendship bracelets / Take the moment and taste it / You've got no reason to be afraid
Kelce's flirty move didn't work at the time. "I was disappointed that she doesn't talk before or after her shows because she has to save her voice for the 44 songs that she sings," he told his brother Jason Kelce in July. "So I was a little butthurt I didn't get to hand her one of the bracelets I made for her."
Still, his effort eventually paid off. And since they started dating, Kelce has still shown an appreciation for the friendship bracelet lyric. He's been spotted wearing them — one for Swift's song "Vigilante Sh*t."
Travis Didn't Drop Taylor's Hand
Swift often references holding hands in her songs and music videos. She explores the devastation that comes when your SO drops your hand, too. A few examples: In the "All Too Well" short film, Dylan O'Brien drops Sadie Sink's hand in front of his friends at dinner. Afterwards, when they argue, she yells at him, "You dropped my f*cking hand." In "Champagne Problems," Swift has a lyric, "Because I dropped your hand while dancing." And in "I Know Places," she sings, "Just grab my hand and don't ever drop it."
When Swift and Kelce were filmed leaving Waverly Inn after a dinner date on Oct. 15, he noticeably held her hand the whole time. At one point, he even switched hands, so he could open the door for Swift without letting go.
Swifties took note of Kelce's hand-holding maneuver. "He was LISTENING when champagne problems was on," one commented. "It's the way he watched the ATW short film and TOOK NOTES," another wrote.
He Put His Hand On Her Waistline
In "I Know Places," Swift sings, "You stand with your hand on my waistline / It's a scene, and we're out here in plain sight." During their Oct. 14 date, when helping Swift out of the car, Kelce put his hand on her waist in plain sight of cameras and paparazzi. (Body language expert Patti Wood told Elite Daily the gesture was "very sexy," since his fingers were pointed toward her pelvis.)
One fan noted the moment on Twitter, "YOU STAND WITH YOUR HAND ON MY WAISTLINE."
He Didn't Run From The Attention
In "Peace," Swift sings about how her role as a public figure makes personal relationships difficult, asking the question, "Would it be enough if I could never give you peace?"
It's an idea she's reflected on in interviews, too. One TikToker collected many clips of Swift explaining this fear of the public attention being too much for someone to want to be with her. In one, she said, "For me, you know, live your life. If people happen to take pictures, then, you know, you laugh about it in the car afterwards." In another, she explained, "My life is like a fishbowl. If I were to fall in love, somebody's choosing to be in that fishbowl with me."
During an Oct. 6 press conference, Kelce spoke about the public attention that comes with being spotted with Swift — but he didn't blame her for it. "It comes with it. You've got a lot of people that care about Taylor, and for good reason," he said, acknowledging that he signed up for it by pursing her publicly. "I've been fortunate enough to have fun with it," he added.
Fans have been celebrating Kelce's perspective on the sitch. "'It's my job to give YOU peace, Tay' — Trav," one wrote in the comments section on TikTok. Another commented, "'Would it be enough, if I could never give you peace?' This is a begging question she no longer has to ask and I LOVE that for her."
Travis Drives A Chevy Convertible
Based on his handholding, fans became convinced that Kelce was a "Champagne Problems" stan, and there's another important lyrical reference he seems to have mastered. On Sept. 24, when they left the Chiefs game together, he drove Swift in his Chevy Chevelle convertible.
"Your Midas touch on the Chevy door / November flush and your flannel cure," Swift sings in the song. Coincidence? Swifties don't think they exist. "This man definitely knows how to study a playbook," one fan wrote about their 'ship.
Taylor's Been Wearing High Heels
For her and Kelce's date nights, Swift has been wearing some pretty high heels. Fans noted that this fashion choice seemed a lot like a line in her song, "Begin Again," which is all about falling in love again after getting heartbroken. "Took a deep breath in the mirror / He didn't like it when I wore high heels / But I do," she sings in the song.
Clearly, Kelce doesn't mind Swift's heels either. One fan quoted the lyrics on Twitter, retweeting photos of high heel-wearing Swift and Kelce walking together.
Taylor Is Bejeweled Again
In Swift's song "Bejeweled" off of the Midnights album, she sings, "I made you my world (huh), have you heard? (Huh) / I can reclaim the land / And I miss you (I miss you) / But I miss sparkling (ah, hey)."
Fans have pointed out that Kelce isn't bothered by Swift getting attention — even when paparazzi crash their dates. "Travis fr does lets her [be] bejeweled," one fan captioned a video of them walking together. Another fan tweeted, "Travis Kelce [lets] Taylor sparkle 🥺 'But I miss sparkling' ❤️ ✨."