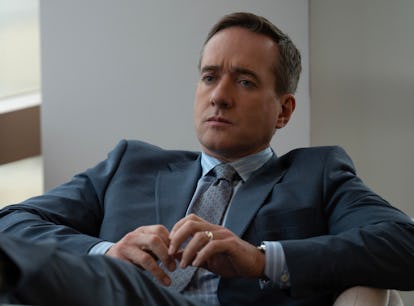 A Tiny Detail About Tom On Succession Could Be Proof That He's A Villain
Low-key hoping this isn't wrong, TBH!
HBO
Tom Wambsgans has provided some much-needed comedic relief for Succession fans throughout the Roy family's brutal infighting, but a new theory could hint at a dark turn for him. As the beloved HBO drama inches closer and closer to its big finale, fans are dissecting every minute detail more than ever... including Tom's choice of smartphone. Here's how Tom's phone created a Succession theory that he will wind up being a villain in the end.
The tiny detail that rocked TikTok was first spotted in the third episode of Season 4 — you know, that episode. Given all the chaos as the Waystar higher-ups were separated, phone calls were central to the episode, and Tom's phone stuck out. Unlike the iPhones that all the Roy siblings use, Tom had an Android. On the surface, this seems insignificant, or maybe just a wink at Tom's lower-class beginnings compared to the Roys. But viewers familiar with Apple's rule about iPhones appearing in TV shows and movies latched onto a much deeper reading. When Tom's Android went viral on TikTok, fans began to worry that Tom would become the show's ultimate villain in the finale.
The reason? Apple doesn't allow villainous characters to use iPhones. This bizarre rule first became public knowledge when Knives Out director Rian Johnson confirmed it in a 2020 Vanity Fair interview. "Apple, they let you use iPhones in movies, but — and this is very pivotal if you're watching a mystery movie — bad guys cannot have iPhones on camera," Johnson said, explaining why the villain in Knives Out was the only character without an iPhone.
Interestingly enough, Logan Roy was also using an Android up until his final moments, and it isn't hard to argue that he could be seen as the show's main antagonist for the past three seasons. So, could Tom's lack of iPhone be hinting at a villain arc? It's unclear what that would even look like, but as the final season has progressed, it definitely does seem like Tom's a long-suffering volcano who's about ready to explode. Will he destroy Shiv in a cutthroat divorce, or possibly backstab all the Roy siblings and take Waystar for himself? Tom has yet to really show his evil side, but hopefully it's coming, because Tom as a villain sounds like great TV.