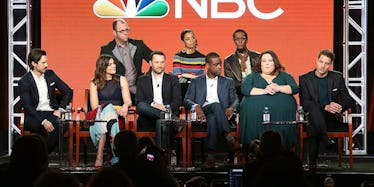 'This Is Us' Cast Teased Everyone With Some Season 2 "Spoilers" On Red Nose Day
Frederick M. Brown/Getty Images
Warning: what may or may not be This Is Us Season 2 spoilers ahead.
As if every This Is Us fan wasn't already dying in anticipation of the upcoming Season 2 of the show — especially after the heartbreaking Season 1 finale that left all of us with basically no answers — the cast of the show gave us a little something to look forward to...
...or did they?
During NBC's Red Nose Day Special on Thursday evening, which raised over $30 million according to E! News, the This Is Us cast all got together to hopefully convince some viewers to donate to Comic Relief, a charity dedicated to helping children in need.
But what was supposed to be a plea for donations quickly turned into a "This Is Us Season 2 Secrets Fest" (I named it that myself, thank you), as cast members began blurting out what may or may (hopefully) not be some of the events that go down in the second season.
After Chrissy Metz (who plays Kate) gushes about how the scripts are "so good" for Season 2, Justin Hartley (who plays Kevin) says, "Like in episode two, I like it when we find out that Rebecca's got a long-lost brother." WAY TO GO, JUSTIN.
But the secrets didn't stop there, though (because nothing is sacred anymore). After Justin blabbed those spoilers, Chrissy tried to get back on track, saying, "Please donate to Red Nose Day. Your donation will make a child as happy as my character Kate when she ends up dating Dennis Rodman."
After everyone freaks out on her, Chrissy then says it's not Dennis Rodman; it's Dennis... Quaid? Two seconds later, Chrissy said his name wasn't even Dennis anymore. WHAT IS GOING ON???
Sterling K. Brown (Randall) then swoops in to tell everyone to "let a professional handle this," but that went about as well as you'd expect.
He says, "A lot of kids out there aren't as lucky as my character Randall, who finds out that his biological father is not only still alive, but is actually his older brother."
Most people might've stopped watching at this point (because spoilers are the enemy and life isn't fair), but then, as Chris Sullivan (Toby) and Susan Kelechi Watson (Beth) try to wrap it up, Milo Ventimiglia (Jack) starts talking. And when Milo talks, we all listen.
BUT THEN, HE BLABBED A SERIOUSLY WTF "SPOILER," TOO: "Just like Jack donates his kidney in episode five."
As if all of these spoilers-that-probably-aren't-spoilers-but-who-knows-anymore didn't stab my heart 12 times, Susan drops the actual worst "spoiler" of all time when she leaves the room saying, "I never told them how we get divorced, so that's a good one."
I'M SORRY, WHAT? You do not touch Beth and Randall's relationship.
Anyway, despite the fact that I irrationally wanted to scream after watching this clip, it's pretty clear that these "spoilers" probably aren't real.
All I'm saying is, if Beth and Randall actually get a divorce in Season 2, I'm rioting.
Get hyped to watch Season 2 of This Is Us premiere this fall on NBC.
Citations: This Is Us Cast Shares Some Hopefully Fake Spoilers for Season 2 on Red Nose Day (E! News)