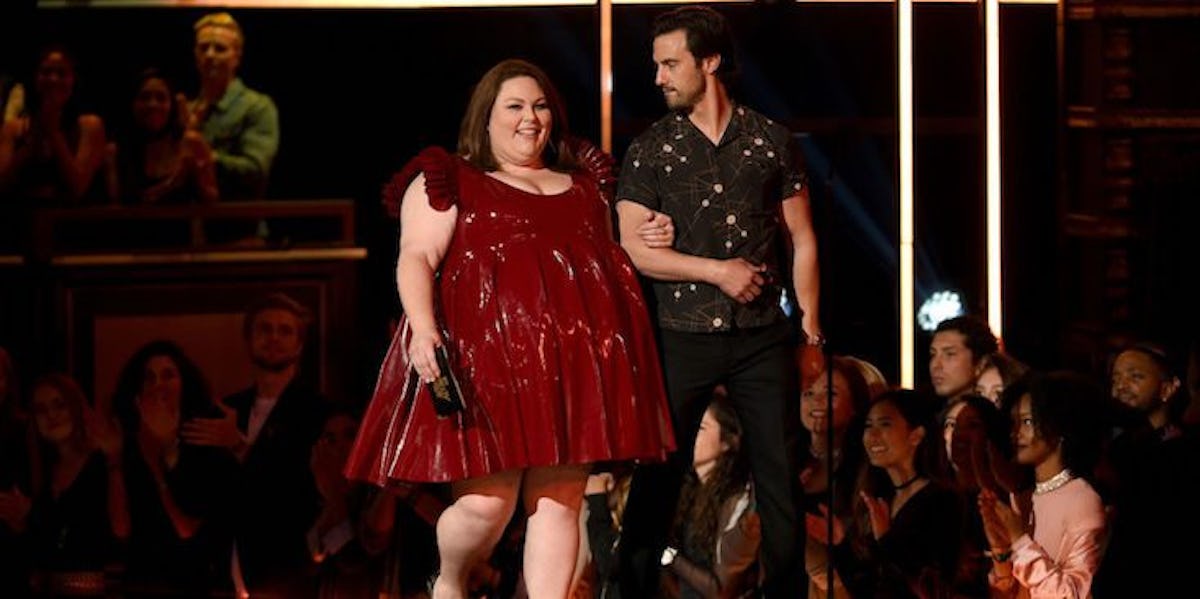 This Is Us' Star Chrissy Metz Claps Back At Haters Over Her MTV Awards Outfit
Getty Images
MTV hosted the MTV Movie & TV Awards this past Sunday night, summoning that mad celebrity glow to come forth and grace its red carpet.
Among the stars in attendance, "This Is Us" actress Chrissy Metz rocked the red carpet and the stage as a presenter for Best Duo, and seriously slayed in her red (well, maroon) latex dress.
I'm sure if I dug hard enough I'd find the history of latex and fashion, but for now, let's just credit this trend to the Kardashians for argument purposes and say Chrissy looked damn good in it.
What a freaking buzzkill that haters are always gonna hate. Twitter trolls came out of the woodwork to knock Chrissy's ensemble.
Don't expect it to ruffle any of her feathers though, as she clapped back right away on twitter.
#THANKSTHO!
Chrissy has talked candidly in the past about her weight and the importance of body diversity.
She told Marie Claire,
Size doesn't equate to beauty... I don't understand why that's a thing. Well, I do, because the media has told us thin is beautiful. But is it? Because I think people are miserable not eating and smoking cigarettes. I've had roommates who were thin girls and constantly working out and trying to stay under a certain size. Even the average girl looks 10 pounds heavier on the screen.
This kind of dialogue, of course, very closely parallels her plot on "This Is Us", in which her character, Kate, struggles with weight loss and body issues. Others even claim that Chrissy has undergone gastric bypass surgery.
However, Chrissy told PEOPLE that though her character does contemplate the surgery, it's not for her IRL right now.
There have been so many discussions about my weight: How is she going to lose weight? Is she going to lose weight? When is she going to lose weight? It's kind of it's funny.
In the meantime, don't expect her to change anything just because Twitter tells her to.
And thank God, because she looks amazing.
Citations: Chrissy Metz Hits Back at Body Shamers After 2017 MTV Movie & TV Awards: ''I Wear What I Want, When I Want'' (E! Online), This Is Us' Chrissy Metz Shuts Down Surgery Rumors but Does Want to Lose Weight: 'I Want to Be Healthy for Myself' (PEOPLE)