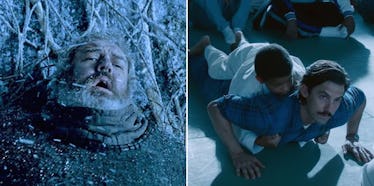 'This Is Us' Won The Most Emotional MTV Award And The Clip Will Make You Sob
HBO/NBC
In the least surprising news in history, "This Is Us" just won the MTV Tearjerker award at the MTV Movie & TV Awards.
The scene between Jack and young Randall beat out Hodor's death scene in "Game of Thrones," which lots of people thought was a shoo-in.
The scene shows young Randall at karate with Jack and Rebecca watching from the sidelines.
Randall's karate instructor has Jack come onto the mat to perform an initiation tradition each father and son in the class completes: the father does pushups with their son on their back to show that he'll always support him.
In the scene, the karate instructor says, "Jack, your back was built to carry your son through life. Are you willing to hold him up, no matter what comes his way?" Jack says, "yes," and the teacher responds, "show me."
So Jack starts doing pushups with little Randall on his back, and he keeps on going even after Randall's teacher says he can stop. It completely wrecked me.
But if Hodor's death scene didn't also completely wreck you, you literally have no soul. He made the ultimate sacrifice in order to save Bran in the final scene of season six, episode five, titled "The Door."
Other nominees for the Tearjerker award included:
"Grey's Anatomy" – Meredith tells her children about Derek's death (Ellen Pompeo) (ABC) "Me Before You" – Will (Sam Claflin) tells Louisa (Emilia Clarke) he can't stay with her (Warner Bros. Pictures) "Moonlight" – Paula (Naomie Harris) tells Chiron (Trevante Rhodes) that she loves him (A24)
Both of these scenes make me sob uncontrollably every time I watch them, so they both probably deserve the Tearjerker award. But I guess it's cool that "This Is Us" won over "Game of Thrones."
"Game of Thrones" only has two seasons left, so I'm sure we'll have a lottttttt more chances to sob our eyes out before the show is done for good.
"This Is Us" just concluded its inaugural season. So don't worry, Pearson family fans, there will be plenty more tearjerker moments to come in the upcoming seasons of "This Is Us."
Let's not forgot we still don't know how Jack died... that will OBJECTIVELY be the most TEARJERKER OF A MOMENT IN TELEVISION HISTORY.
I will never be ready.