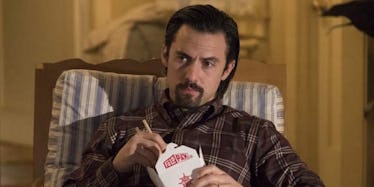 'This Is Us' May Have Revealed How Jack Died And Fans Are Heartbroken
NBC
Spoiler alert: As the headline would suggest, this post contains spoilers for the latest episode of "This Is Us." Proceed at your own risk.
Like pretty much every other episode so far, this week's "This Is Us" was an incredibly stressful rollercoaster of emotions.
But Tuesday's episode, titled "What Now?" — which also happens to be the second to last episode of season one — had an extra fun dose of stressful tacked on at the end: Kate revealed she's the reason her father died.
Excuse me? Do we really need to make Kate's life more tragic than it already is?!
But after that doozy of an episode and Kate's confession, the pieces are starting to come together on how Jack Pearson (Milo Ventimiglia) died when his kids were just teenagers.
In a flashback to the '90s, 15-year-old Kate is starting to get worried about the state of her parents marriage, and for good reason — Jack barely kisses Rebecca (Mandy Moore) goodbye as she departs for a two-week trip.
As Jack is dropping the three siblings off a party, Kate hangs back and suggests Jack drive to Cleveland where Rebecca is to patch things up. Jack tells Kate to focus on her own life, instead of her parents'.
Then Jack heads to the bar where his co-workers are drinking after a retirement party (not for Jack). Jack has a few too many beers, gets hit on by Miguel's assistant, Heather, and decides Kate was right. He's going to save his marriage.
And that's when this heartbreaking phone call happened that filled us all with dread.
A tipsy Jack left Kate the following message:
Hey princess, it's dad. I wanted you to know that you were right. I'm going to fix things with your mom. I love you Katie girl.
Then he gets in his car (!!!) presumably to drive to freakin' Cleveland even though he is clearly too drunk to drive home, let alone to freakin' Cleveland.
NOOO, JACK, DON'T DO IT! YOU'RE CLEARLY GOING TO GET INTO A CAR CRASH AND DIE!
(Or so I assume.)
Then, back in the present day, at the memorial for Randall's biological father, William, Kate admits to Toby that the reason she can't talk about Jack's death is because she feels it's her fault.
She says,
You remember when I told you I couldn't talk about my dad's death? That's because it's my fault. I'm the reason that he's dead.
Fans pretty much lost it.
Anyways, we'll find out for sure next week in the season finale of "This Is Us," which airs next Tuesday, March 14 on NBC at 9 pm.