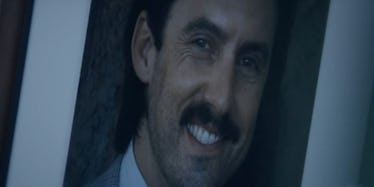 'This Is Us' Revealed Jack's Funeral And The Clip Will Leave You Sobbing
NBC
People are so invested in the Pearson family they're missing their own family member's funerals just to catch a glimpse of beloved patriarch Jack's funeral.
OK, maybe that is an exaggeration or maybe some people just don't care very much for their own family, but "This Is Us" is seriously addicting.
The highs and the lows of the show keep us craving more.
And witnessing Kate's (Chrissy Metz) emotional breakdown during a workout class with flashbacks of her father (Milo Ventimiglia) Voguing with her, and then a brief shot of his funeral, is seriously too much for our little pea pickin' hearts to handle.
While we don't know how Jack kicked the bucket yet (I deal with pain through terrible jokes), we do know that he passed away sometime in the last 10 years, according to what Kate told Toby (Chris Sullivan).
We also know it obviously still has a profound effect on her.
You just don't scream for no reason at drum-stick-workout class.
Kate, who joined the "immersive weight loss program," is not going to make any friends if she screams and cries during every drum circle.
Take it from a girl who knows. I was kicked out of every marching band's drumline I joined.
If we can judge based on the appearance of Kate, Kevin and Randall, it looks like the siblings were just teenagers when Jack passed away.
We also found out Kevin isn't into Sloan or Olivia, but still harbors love for his ex-wife and childhood sweetheart Sophie (Alexandra Breckenridge).
Sophie, Kate's best friend, went to all of the siblings' separate birthday parties and then left Kate's Madonna-themed party for Kevin's "Princess Bride" theme. Kevin said he loved her as a child, too.
"This Is Us" airs Tuesdays at 9 pm on NBC, so hydrate before next week to replenish your tears.
Citations: This Is Us Shows Jack's Funeral and Adds Yet Another Twist (E Online)