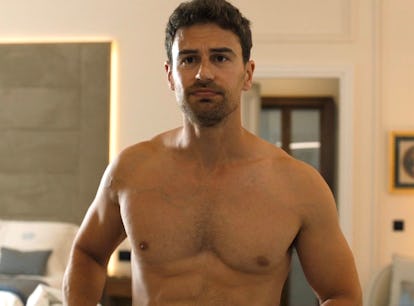 Theo James Revealed If He Was Wearing A Prosthetic In That White Lotus Scene
Well, that's one White Lotus mystery solved.
Season 2 of The White Lotus kicked off with a big mystery. No, not who died in the ocean — this specific question had to do with the behind-the-scenes mechanics of how one particular scene was filmed. After Theo James' character Cameron dropped trou right in front of Harper, social media exploded as fans wondered how much of the full-frontal moment was real. Thankfully, Theo James finally revealed the truth about his White Lotus nude scene, confirming whether or not he was wearing a prosthetic.
James dished all the details about his buzzy moment during his Dec. 2 appearance on The Tonight Show with Jimmy Fallon. After fans of the series spent over a month speculating about the scene, Fallon finally asked James if he was wearing a prosthetic. "Yeah, it's a pee-pee prosthetic," James confirmed.
He went on to detail his own shock when he first saw the piece he'd be wearing. "The lovely Rebecca, who was the makeup designer, comes up and is like, 'You know, this is what they want to do, but obviously we want you to have some input.' So I said, 'Honestly, I just don't want it to be distracting; it needs to be regular Joe,'" James recalled, explaining how he wanted the focus of the scene to be on the sexual power dynamics between Cameron and Harper. "And she says, 'I got you, I got you. Regular Joe.'"
But James was in for a surprise when he finally saw the prosthetic. "So we get to set and she's got like a hammer or something. I mean, it's bigger than that, it's like she stole it off a donkey in the field," James said. "The thing is ginormous and me and the director, Mike White, are sitting there going, 'That's average, is it?' We're, like, calling our respective partners being like, 'I'm so sorry.' It was 9 inches flaccid and about 4 inches wide, and we were like 'What the hell is that?!'"
The scene in the premiere wound up only showing a quick glimpse of the prosthetic, but James previously revealed that the nudity was originally much more NSFW before it was "toned down" in subsequent takes.
Well, that's one White Lotus mystery solved. Now fans just have to figure out who's about to die... and what Quentin might be up to. New episodes of The White Lotus Season 2 drop Sunday nights at 9 p.m. ET on HBO and HBO Max.