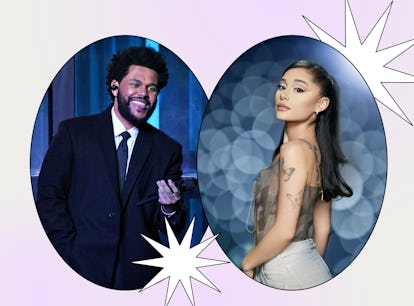 The Weeknd & Ariana Grande's "Die For You" Remix Is Glorious
Alexa, play this on an endless loop.
Kevin Mazur/Getty Images Entertainment/Getty Images, NBC/NBCUniversal/Getty Images
There's nothing better than two artists who know how to create magic. The dream team in question? Ariana Grande and The Weeknd. The longtime collaborators recently added another banger to their roster, and it's quite a silky treat. On Feb. 24, the singers released a remix of The Weeknd's Starboy hit, "Die For You," which has received some newfound success in the last year thanks to TikTok. Seriously, there's no way you can scroll down your FYP without hearing the track's melodic chorus.
This release was a sudden surprise, especially for Arianators who haven't heard music from the pop princess in nearly a year. Ariana briefly paused her music career to focus on her acting role as Glenda in the upcoming Wicked movie. However, that hasn't stopped the Positions singer from reminding the world that she still runs the pop game — hiatus or not.
On Feb. 21, Ariana shared a TikTok where she can be seen layering her vocals in Pro Tools. "Wrote and recorded a verse for my friend after a 14-hour day on set," she wrote. "This certain exception had to be made…"
Though Ariana didn't reveal the artist she was working with, fans noticed the lyrics she recited in the teaser matched to "Die For You." Shortly after, both she and The Weeknd confirmed the remix on Instagram. This is undeniably the most R&B record The Weeknd has released in the last few years, so to hear Ariana — whose vocals were meant for the slow-burn genre — breathe new life to this production is iconic.
Ariana creeps in about a minute into the remix, her warm vocals finely mixing with The Weeknd's in the chorus. She then steadies the anticipation with a soft high note before diving into her verse. "I'm finding ways to stay concentrated on what I gotta do / But, baby boy, it's so hard around you / And yes, I'm blaming you," she croons, her backing vocals running aflame in stunning harmonies. Ugh, Ariana. You and those glorious belts have been missed!
Besides Ariana's new verse, the remix keeps true to the original 2016 arrangement. It would've been incredible to hear The Weeknd add a new layer to this new rendition, but that doesn't take away from how much of a bop "Die For You" still is.
Of course, this isn't the only time the singers have matched musical wits. In 2021, Ariana lent her vocals for his Dawn FM single, "Save Your Tears." The two then performed the remix at the iHeartRadio Music Awards that same year and proved that not much work went into perfecting her vocals in the studio. That observation is clearly a given, but even The Weeknd was in awe of Ariana as she lifted the chorus with her signature falsettos.
Then, in 2020, they collaborated on the most underrated ballad from her Positions album, "Off The Table." These three melodic features come nearly a decade after their first collaboration, 2014's "Love Me Harder." To think that snappy bop would open the door to more deep cuts from both artists is mind-blowing. With their catalog only expanding with remixes, I think a joint album is in order.