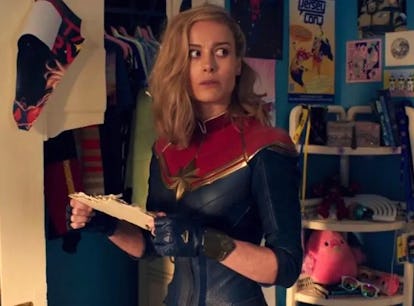 Here's Everything To Know About The Marvels So Far
Including how Ms. Marvel leads into the film.
Marvel Studios
It took the Marvel Cinematic Universe a long time to finally create a woman-oriented superhero film — too long, in many fans' eyes. But when Captain Marvel arrived in theaters in 2019, it was a massive hit. In the MCU top-10 grossing films list, it is only one of three non-crossover films to make the cut, and it's the only introductory film other than Black Panther on the list. A sequel for the movie was always inevitable, but with a non-Earth-oriented character, it was uncertain how a non-flashback movie would work. It turns out Phase 4's The Marvels will expand the series beyond just the titular captain.
Captain Marvel was a difficult proposition as a film's subject because she's just so damn powerful. She is a superhero who can find a needle-in-a-haystack dead ship in the middle of nowhere that happens to have Tony Stark in it and drag it home. She can race across the universe and back the way Olympic athletes dash around a track. Trying to make a film in which someone that powerful comes up against an obstacle she can't easily swat to the side is hard.
The first Captain Marvel film solved this by setting the story in the past, erasing Carol Danvers' memories. It centered the story around gaslighting Danvers into not realizing her own abilities so that her fight was within herself.
But that was only going to work once. Let's run down how a sequel will tackle this issue in the present day:
Captain Marvel is streaming on Disney+ along with most of the Infinity Saga films. Both WandaVision and Ms. Marvel are streaming on Disney+ as well with all episodes.
This article was originally published on