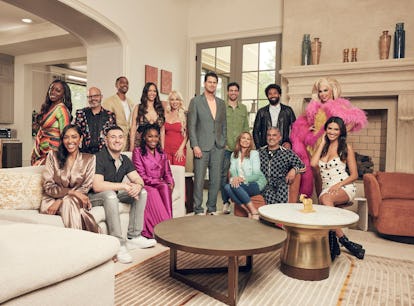 The GOAT Will Make Bachelor, Drag Race, & Love Is Blind Stars Compete
Freevee is popping off rn.
Amazon Freevee
The ultimate reality show is upon us. Amazon Freevee is bringing the messy, crossover madness that reality lovers have dreamed of with its new series The GOAT. The show will attempt to determine who is truly the greatest reality show contestant of all by pitting standouts from franchise juggernauts like The Bachelor, The Real Housewives, and RuPaul's Drag Race against one another. If you can't wait for the guaranteed chaos, then here's everything you need to know about The GOAT.
Amazon Freevee announced The GOAT on May 1, confirming that filming had already begun in Atlanta in April. The announcement came on the heels of the viral success of the network's unscripted series Jury Duty, which put Freevee on the map as a true streaming competitor. While The GOAT may not be the first reality competition to bring together stars from various other shows, it might be the most diverse in terms of its expansive list. Netflix's Perfect Match draws exclusively from other Netflix shows, and similar MTV shows like Ex on the Beach and All Star Shore also use in-network talent. But The GOAT's cast is all over the place.
The GOAT Cast
The cast list is stacked with 14 massive names in reality television. Some standouts include Drag Race favorite Alyssa Edwards, Love Is Blind success story Lauren Speed-Hamilton, and of course, Scandoval first responder Kristen Doute.
Tayshia Adams (The Bachelor)
Joe Amabile (The Bachelor, Dancing with the Stars)
Kristen Doute (Vanderpump Rules)
Reza Farahan (Shahs of Sunset)
CJ Franco (FBoy Island)
Wendell Holland (Survivor)
Teck Holmes (The Real World, The Challenge)
Alyssa Edwards (RuPaul's Drag Race)
Paola Mayfield (90 Day Fiancé)
Da'Vonne Rogers (Big Brother, The Challenge)
Joey Sasso (The Circle, Perfect Match)
Jason Smith (Holiday Baking Championship)
Lauren Speed-Hamilton (Love Is Blind)
Jill Zarin (The Real Housewives of New York City)
Freevee also announced The GOAT will be hosted by comedian Daniel Tosh.
The GOAT Predicted Trailer
Only a cast photo has been released so far. Hopefully, some first-look footage will follow in the coming months.
The GOAT Predicted Release Date
Amazon Freevee confirmed production began in April. Hopefully, that means The GOAT will make its premiere later in 2023.