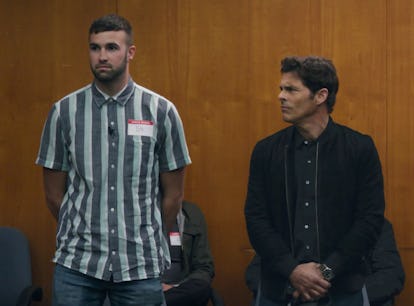 If Jury Duty Season 2 Happens, It'll Be Set In "A Whole Different Universe"
IDK how they're going to find someone better than Ronald.
Amazon Freevee
Jury Duty has been holding court as the surprise hit show of 2023, but could it return for another trial? That's the big, tricky question perplexing fans after finishing Season 1. Normally, when a show is as buzzy as Jury Duty has been, a second season is a no-brainer. But it's not so simple in this instance, given that the gimmick has basically been ruined for any future participants. Don't worry, though — the Jury Duty team has plans to totally reinvent the series in a potential second season.
When Jury Duty first premiered on April 7, it was pretty under the radar. But it quickly built into a TikTok sensation as more and more people marveled at the jurors' outrageous antics and fawned over clueless normie Ronald's pure, uplifting reactions to them. By the time the finale aired on April 21, all of social media had fallen in love with Ronald... just in time to say goodbye to him. Although Amazon Freevee hasn't confirmed if there will be a second season yet, showrunner Cody Heller told Variety she has some ideas on how to keep Jury Duty going, even if they involve leaving the courtroom.
"Obviously, it would have to be a whole different universe," Heller said of a potential second season, teasing that the show could shift to a nonjudicial group of strangers. "You couldn't just do jury duty again, because then people would be like, 'Wait a second.' But I do think that it's possible. I do think there's a million different worlds that this kind of thing could exist in."
Filming Ronald's journey was just as unpredictable as Jury Duty's possible future. Heller shared that while the cast had elaborate scripts to try to steer Ronald in certain directions, most of the show's most beloved moments were totally unplanned. "Honestly, so many of [the viral moments] are things that were not scripted whatsoever," Heller said. "The Bug's Life thing, that was not scripted at all." Heller is referring to a scene in which Ronald invited the socially awkward outcast Todd (played by David Brown) to watch A Bug's Life with him, thinking it would help build his confidence. The wholesome moment blew up on TikTok.
"We actually thought that he was going to be kind of freaked out by Todd," Heller admitted. "Just seeing him take him under his wing like that? The makeover was completely initiated by Ronald. Literally not scripted at all."
The love for Ronald is the other major hurdle standing in the way of Jury Duty Season 2. Maybe the team will figure out the logistics of creating a new scenario, but how are they going to find someone else like Ronald to carry the season? I guess fans will just have to wait and see.