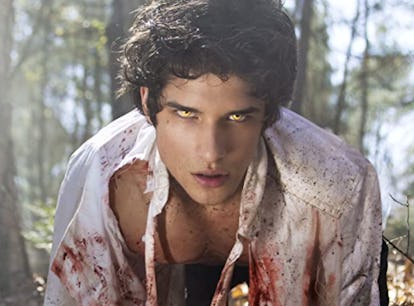 Wait, The Teen Wolf Movie Trailer Reveals Allison Is The Villain
This was not the reunion I had in mind for Scott and Allison.
MTV
There's something howling good on the horizon. Teen Wolf stans will be hype to know that even though the supernatural series officially ended in 2017, there's a revival movie coming soon. After the four-year anniversary of the show's series finale, Paramount+ announced it's bringing the wolf pack back. If you're ready to hear all the juicy deets, here's what to know about the Teen Wolf movie, including the intel on its release date, cast, and trailer.
The announcement arrived on Friday, Sept. 24, 2021, when Variety released an exclusive report ahead of Paramount's official announcement. The series, which originally ran for six seasons from 2011 to 2017, followed Tyler Posey as Scott McCall, a teen whose life was turned upside down after being bitten by a wolf. From there, he and his best friend Stiles Stilinski (Dylan O'Brien) came across a slew of dangerous supernatural creatures in their town, Beacon Hills. Among the creatures the pack had to fight off were banshees, kitsunes, wendigos, and other scary shapeshifters that prowl the night.
Since Teen Wolf's series finale left some storylines a bit open-ended, it seems the best next step was to continue the series in movie form. Fans last saw Scott rescuing a new werewolf, Alec (played by Benjamin Wadsworth), and inviting him to join his pack. Once Alec accepted, the pack walked off in the moonlight, talking about the need to stay safe and fight off creatures and hunters who will continually pursue them. There's been some talk of bringing back Teen Wolf since the show ended, and now it's finally happening.
Here's everything to know about the Teen Wolf movie so far.
Teen Wolf Movie Paramount+ Release Date
Paramount+ inked a deal with MTV Entertainment Studios on Sept. 24, according to an email sent to Elite Daily. The team-up includes a multi-year deal with the creator, writer, and producer of Teen Wolf, Jeff Davis.
Davis will write and executive produce the Teen Wolf movie, plus a new series called Wolf Pack, a show that appears to be unrelated to Scott's story and based on the book series by Edo Van Belkom.
Teen Wolf: The Movie will premiere Jan. 26, 2023 on Paramount+.
Teen Wolf Movie Cast
Paramount+ announced the cast of the upcoming movie on Tuesday, Feb. 15, 2022, and it sent shockwaves through the fandom. As expected, most of the OG stars will be reprising their roles for the film, including Tyler Posey as Scott McCall, Crystal Reed as Allison Argent, Holland Roden as Lydia Martin, and Colton Haynes as Jackson Whittemore. Reed's casting was a bit of a surprise considering Allison died in Season 3 of the series, but the true surprise came from the names not on the list.
Absent from that initial announcement was Tyler Hoechlin, who played the werewolf Derek. But thankfully, Derek fans' wishes came true a few months later when Paramount+ confirm Hoechlin would be returning as the brooding Alpha wolf in a May 13 casting update. Hoechlin will also produce the movie.
However, Dylan O'Brien is another story. O'Brien played Scott's ever-loyal bestie Stiles throughout the series. Since Stiles is such a fan-favorite character, it was disappointing to not see O'Brien confirmed to return.
Fans still had hope that Stiles would be in the film, as the cast reveal stated more names will be announced later. However, on March 9, those hopes were dashed as O'Brien made it clear in an interview with Variety that he will not be returning to the Teen Wolf world.
"It was a difficult decision. A lot went into it," O'Brien said. "The show couldn't be more dear to me. It was the first thing I ever did I and so many people there are extremely dear to me. It was something I was trying to make work but it all happened very fast. We didn't really know that it was happening and they kind of just threw it at us a little bit, which is fine because we all love the show. We were trying to figure it out."
However, that didn't happen. "Ultimately, I just decided it was left in a really good place for me and I still want to leave it there," he continued. "I wish them well and I'm going to watch it the first night it comes out. I hope it f*cking kicks *ss, but I'm not going to be in it."
Teen Wolf Movie Trailer
Paramount+ released a teaser trailer for the Teen Wolf movie at San Diego Comic-Con on July 21, and the minute-long clip teases a whole lot. First of all, the trailer features Allison (Crystal Reed), confirming that she will rise from the grave and appear in the Teen Wolf movie. Plus, there's a juicy shot of Derek Hale (Hoechlin) with his teenage son Eli (Vince Mattis).
The full trailer dropped on Dec. 4, and it dropped a bombshell about Allison's role. It's still a mystery how she came back from the dead, but apparently, Scott's true love is more interested in fighting him than kissing him. In fact, she doesn't even seem to remember him at all in the movie trailer. Allison's dad even tells Scott, "Whoever or whatever is out there right now, it's not Allison." So is this some demonic trick, or is Allison really back to her old hunter ways? The trailer certainly sets up an unexpected battle.
Teen Wolf Movie Plot
Per the press release announcing the movie, it opens with a "terrifying evil" that's emerged in Beacon Hills. As the wolf pack howls into action, there may be a return of creatures like banshees, hellhounds, werecoyotes, and kitsunes, along with other shapeshifters. Scott McCall has grown up and is an Alpha of the pack, working to reunite with friends and gain new allies to fight "what could be the most powerful and deadliest enemy they've ever faced."
Catch Teen Wolf: The Movie when it premieres Jan. 26 on Paramount+.
This article was originally published on