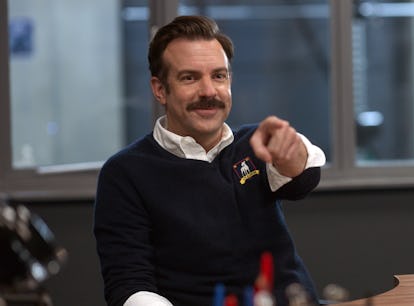 Ted Lasso Def Seemed To Shade Harry Styles In The Season 3 Premiere
The Don't Worry Darling drama is back, y'all.
Apple TV+
Ted Lasso may be a super uplifting show, but even it can't escape the Don't Worry Darling drama vortex. After months of gossip about Jason Sudeikis' alleged feud with Harry Styles, he may have used the Season 3 premiere of his series to take a shot at the singer. A scene at the end of the first episode of Ted Lasso's new season appears to throw some shade at Styles' involvement in Sudeikis' divorce drama.
Ted's relationship with his son Henry is a major focus of Season 3's premiere, as the relatively unenthusiastic coach contemplated going back to America to spend more time with his kid. In the end, Henry encouraged his dad to not give up on AFC Richmond, but another revelation had Ted seeing flames. Henry showed off a Thanos gauntlet toy while video-chatting with his dad, saying that someone named Jake gave it to him. When Ted asked who Jake was, Henry's reply flipped a switch: "Mommy's friend." Cue Ted looking angrier than ever before as Beyoncé's seething revenge anthem "Ring the Alarm" started playing.
It's not difficult to see the moment as an allusion to Sudeikis learning about his ex-fiancée Olivia Wilde's very public fling with Harry Styles. Shortly after Sudeikis and Wilde broke up in 2020, Wilde began dating Styles while they worked together on Don't Worry Darling.
The Ted Lasso scene included a couple of choices that seemed to be Styles references. For instance, the Thanos toy nods to Styles' involvement in Marvel — he joined the cinematic universe in 2021's Eternals, which was released at the height of his and Wilde's relationship. Additionally, Styles' character in Don't Worry Darling was named Jack, which is very similar to the Jake referenced in Ted Lasso.
Since this moment was used as the cliffhanger ending for the Season 3 premiere, it sure seems like this Jake animosity will play a big role in the season, which probably means even more subtle slights against Styles. That's right, y'all — we're officially back in the Don't Worry Darling drama machine.