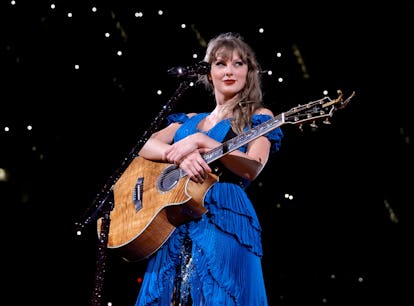 Who Is "Wildest Dreams" By Taylor Swift *Actually* About?
Kevin Winter/TAS23/Getty Images Entertainment/Getty Images
Taylor Swift tends to be pretty obvious in naming her songs' muses. (Here's looking at you, "Dear John" and "Hey Stephen.") But she kept things ambiguous for "Wildest Dreams," a 1989 track originally released in 2014. Even in the album booklet, where Swift left codes for her each song, she was vague. "He only saw her in his dreams," she wrote as the cipher for "Wildest Dreams."
In a 2014 interview with NPR, she added to the intrigue surrounding the track, explaining that the song describes her approach to relationships generally without naming any specific people:
"That's actually a really good example of the way I go into relationships now. If I meet someone who I feel I have a connection with, the first thought I have is: 'When this ends, I hope it ends well. I hope you remember me well.' Which is not anything close to the way I used to think about relationships. It's that realization that it's the anomaly if something works out; it's not a given."
Without a clear explanation from Swift, fans have developed their own theories about the song's inspiration. Some think it's about Alexander Skarsgård, who worked with Swift on The Giver movie. Others believe it's about Harry Styles, who inspired plenty of other songs on the album. Another theory? The song might be inspired by famous Hollywood couple Elizabeth Taylor and Richard Burton.
Here's a full debrief on each theory about the inspo behind "Wildest Dreams."
Alexander Skarsgård
After Swift released the music video for "Wildest Dreams," fans began speculating that the song could be about Skarsgård. In the music video, which sparked controversy at the time, Swift takes on the role of a brunette actor who has an affair with her costar while onset in Africa.
To fans, this depiction seemed very similar to what could have happened on the set of The Giver with costar Skarsgård. Swift wore a brunette wig for her role in the movie, and filming took place in Cape Town, South Africa in 2013.
Some of the song's lyrics also seem like they could be an ode to Skarsgård. In the song, Swift sings, "He's so tall and handsome as hell / He's so bad, but he does it so well." Considering Skarsgård is 6′4″, and best-known for playing the villainous vampire Eric on True Blood, he definitely fits the bill.
Harry Styles
Many of the tracks on 1989 are thought to be about Styles, whom Swift dated briefly over the fall of 2012 and the winter of 2013. Looking at Swift's discography, fans pretty much agree that "Style" and "Out of the Woods" were written about their relationship, but "Wildest Dreams" is another track potentially inspired by the former One Direction singer.
There's the lyrical similarities: Styles is "so tall and handsome as hell," like the song says. Plus, if you buy into the theory that she wrote "I Knew You Were Trouble" about him, he fits the "bad" boy label, too.
But that's only the half of it. Fans have pointed out that Styles' unreleased song "Him" seems like a direct response to Swift's "Wildest Dreams." In it, Styles sings, "That nice dress in my Wildest Dreams / Lipstick stains you left still on my sheets." To compare, Swift's "Wildest Dreams" lyrics go, "Say you'll remember me / Standing in a nice dress / Staring at the sunset, babe / Red lips and rosy cheeks."
Styles' unreleased song continues, describing an ex who is a songwriter. "And I don't want to hear about him / In these songs you continue to write / I was with you when you wrote that line / It was me that you had on your mind." It certainly seems like he could be referencing Swift — and, more specifically, "Wildest Dreams."
All in all, though, it doesn't sound like Styles would mind much if the song was about him. "I think it's flattering," he told Howard Stern in March 2020, per Billboard, when asked about being the inspiration for Swift's music. "Even if the song isn't that flattering, you still spend time on it, and ultimately, using Taylor as an example, she's a great songwriter."
Elizabeth Taylor & Richard Burton
There could be some historical inspiration for "Wildest Dreams," too — something that is obvious in the song's music video. Joseph Kahn, who directed it (along with some of Swift's other famous MVs, including "Blank Space" and "Bad Blood"), explained that the romance of Taylor and Burton served as inspiration for the video.
"The video is based on classic Hollywood romances like Elizabeth Taylor and Richard Burton, as well as classic movies like The African Queen, Out of Africa and The English Patient, to name a few," he said in a statement to Entertainment Weekly in 2015.
It wouldn't be the only time Swift took inspo from this couple in her songwriting. In "Ready For It...?" on Reputation, she sings, "And he can be my jailer, Burton to this Taylor / Every lover known in comparison is a failure."