Clowning (Taylor's Version)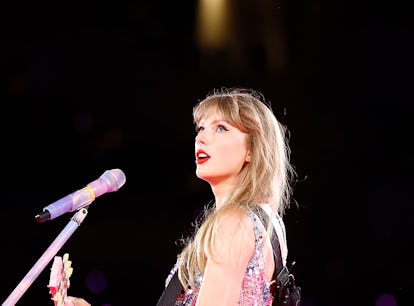 Did Taylor Swift Tease Her 11th Album? Fans Think So
Did you hear about the girl who lives in delusion?
Emma McIntyre/TAS23/Getty Images Entertainment/Getty Images
1989 (Taylor's Version) has been out for less than 24 hours, and already Swifties are theorizing about Taylor Swift's next project. On Twitter, fans are convinced that Swift teased her 11th album in her Instagram post for 1989, and their evidence is all about in how she crossed her Ts — yes, really.
When Swift celebrated her re-release at midnight on Oct. 27, she posted a series of photos from the new album on Instagram. The last slide of the carousel was a handwritten message directly from Swift:
"I was born in 1989, reinvented for the first time in 2014, and a part of me was reclaimed in 2023 with the re-release of this album I love so dearly. Never in my wildest dreams did I imagine the magic you would sprinkle on my life for so long. This moment is a reflection of the woods we've wandered through and all this love between us still glowing in the darkest dark. I present to you, with gratitude and wild wonder, my version of 1989. It's been waiting for you."
But it's not Swift's words that have fans building a new conspiracy theory — it's her handwriting. Specifically, Swift capitalized 11 "T"s throughout the note, and they look vastly different from her lowercase "t"s.
On Twitter, @GabiiiSwiftie shared a photo of Swift's note, highlighted to show all the times she capitalized "T." But how did Swifties get from 11 capitalized Ts to a new album? Currently, Swift has 10 albums in her catalogue (not counting the repeats from her re-recordings). Considering how much time she's been spending in the studio, Swifties are hopeful this number means that she has new, never-heard-before music in the works: TS11.
Swifties quickly became convinced of the theory. One fan responded to the post, "omg TS11 confirmed??" Another believer replied, "Last time we got 2 re re-recording we got [midnights] a year later (TS10) maybe Ts11 next year ??"
There might be another hint in Swift's note. "ALSO 11 lines leading up to 'it's been waiting for you,'" another Swiftie pointed out.
Other fans traced the significance of 11 back to Swift's Instagram post on Oct. 24. The post, which celebrated "Cruel Summer" becoming no. 1 on Billboard's Hot 100, featured two photos of Swift and her producer Jack Antonoff where they were holding up a total of 11 fingers. "11 was also the number of fingers they were holding up in her insta post the other day," a Swiftie tweeted.
But TS11 wasn't the only theory circulating. Others thought the number could be a reference to the eleventh month, November. Perhaps a new release or project could be coming next month.
Of course, not every fan bought into the theory. Some fans (rightly) pointed out that each capital "T" was when Swift wrote "Th" — perhaps, it's just how she's accustomed to writing those two letters together. (Others immediately guessed TS11 started with "Th.")
Some fans poked fun at the conspiracy theory — one tweeted, "All aboard the clown train🚂 🤡 " — but longtime Swifties know that the singer has used capital letters to reveal codes. In her album booklets, she used to give clues for what each song was about by capitalizing letters to spell them out.