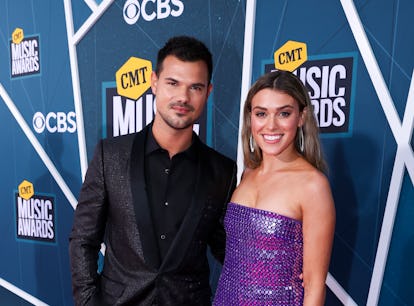 Taylor Lautner Said Marrying A Swiftie Has Been A "Perfect Situation"
"On paper, it sounds like a tough situation, but I not once was ever worried about it."
CBS Photo Archive/CBS/Getty Images
Taylor Lautner's love life has been pretty wild, and although it may sound strange that his wife is a massive fan of his ex-girlfriend, he actually thinks it's great. Lautner and his wife, who's also named Taylor Lautner but goes by Tay to help avoid confusion, broke down how their recent reunion with Taylor Swift went on their podcast, and also dissected what it's like to have such unique relationships with Swift. According to Taylor Lautner, it's been a "perfect situation" to marry a hardcore Swiftie, because they're both fans of his famous ex.
The Lautners got to spend some time with Swift recently when Taylor starred in Swift's "I Can See You" music video. For Taylor, it was a decade-long reunion, since he had dated Swift briefly back in 2009, but for his wife, Tay, it was her first proper introduction to the singer she's stanned for years. Tay shared how much the moment meant to her on Instagram at the time, pairing a pic of herself, her husband, and Swift on the music video set with an adorable throwback photo she took back in 2010 when she was fangirling over Swift at a concert. Clearly, she's been a massive Swiftie for years.
Naturally, fans might wonder if the situation between the three Taylors is awkward at all, since it's pretty unique. But Taylor said he and Tay have never felt weird about his past with Swift.
"I know on paper, it sounds like a tough situation, but I not once was ever worried about it," Taylor said during the July 19 episode of his and Tay's podcast The Squeeze. "We're just confident in our relationship. [My wife] is the coolest, chillest person ever. She also is a diehard fan of that person ... So, it kind of was just a perfect situation."
Tay echoed her husband's sentiments, saying that she considers Swift a friend now, and her warmth made it easy to get over any awkwardness. "She's hysterical," Tay said. "It's been so fun to get to know her. It definitely helps that [Swift] is as nice as she is, and so sweet and so respectful."
Sounds like there's nothing but love between all three of these Taylors.