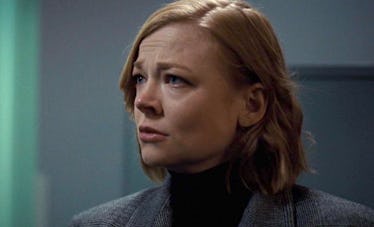 This Succession Theory About How Shiv Will Get Revenge On Kendall Is Brutal
I kinda need this to happen, but also it would destroy me??
HBO
The Roy civil war is about to go nuclear now that a clear battle line has been drawn between Shiv and her brothers, and fans already have a theory about how she will get her revenge. The third-to-last Succession episode ended with Shiv concocting her retaliation plan after Kendall and Roman turned against her. The scene inspired a very convincing theory among Succession fans that Shiv will destroy her older brother by leaking his incriminating waiter story. It would be a brutal move, but Shiv may have finally reached her breaking point.
Spoiler alert: This post contains spoilers from Succession Season 4, Episode 8. The Roy siblings have always had a somewhat tenuous alliance, bonded by their shared resentment of their father. But after Logan's death, their peace treaty is null and void. While Kendall and Roman plotted ways to thwart the sale of Waystar Royco to Lukas Matsson so they could remain in control, Shiv took a more devious route. On the surface, she was on her brothers' side, but actually, she was forming a relationship with Matsson to push the acquisition through and come out on top.
But the truth finally came out on election night. As Shiv and Roman's opposing political ideals exploded into an all-out battleground, the choice was left to Kendall whether to announce the bad-for-business but good-for-the-country Democrat Jiminez as president or go with the alt-right Mencken with whom Roman had secured a guarantee to block Matsson's acquisition. Kendall was torn... until Greg dropped a nasty bit of intel into his ear. Once Kendall learned the truth about Shiv's secret meetings with Matsson, he called the election for Mencken, securing his and Roman's allied future and effectively shoving Shiv out.
Shiv wasted no time in calling Matsson to strategize about their vengeance play, and with the brother and sister more at odds than ever before, fans were quick to theorize that Shiv may finally play her trump card. Could she really be planning to leak the story about Kendall's manslaughter?
In case you need a reminder, the so-called "waiter story" happened in the Season 1 finale, when Kendall left Shiv's wedding with a fired catering waiter to get high. While driving into town to get more drugs, the two crashed into a lake. Kendall was unable to save the man and fled the scene so he wouldn't get caught. Logan helped cover up the manslaughter, but the guilt still haunted Kendall until he finally told his siblings about it in Season 3's finale. Shiv and Roman were both surprisingly supportive at the time, which would make Shiv leaking the story to the press even more heartbreaking for Kendall.
And she might not stop there. She also has dirt on her other brother, Roman, whom Gerri has already threatened to expose over his continued sexual harassment of her. A Shiv-Gerri team-up to take down the Roy boys would sure be an exciting way for Succession to end.