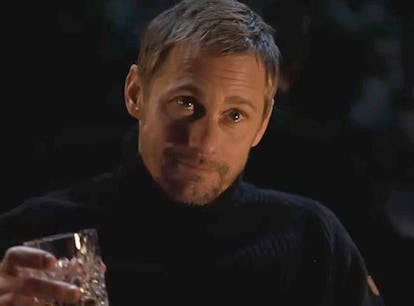 Here's Who Inspired Succession's Lukas Matsson, From Leo DiCaprio To Elon Musk
He's basically a combo of every famously toxic man.
HBO
Succession's got a new big bad, and it's become more and more apparent that he's basically ripped from the headlines. When Lukas Matsson was first introduced in Season 3, it seemed pretty clear which real-life Swedish billionaire inspired the character. But as more of Matsson's toxic quirks have been revealed, so have multiple other real-world parallels. Succession fans have wondered if Lukas Matsson is based on a real person, but he's actually based on several famous men.
With Logan Roy gone, Matsson has loomed large over Succession's final season as the potential new owner of Waystar Royco. The GoJo CEO has been making things very difficult for the Roy siblings, employing aggressive negotiating technigues and constantly playing mind games with them. And each new detail about his personal life has been stranger than the last, which has brought up a ton of questions about whether Matsson was inspired by real tech moguls and scandal-ridden celebrities. It's pretty easy to see the connections if you're familiar with all the relevant goss. Here are the real-life famous men who inspired the Matsson character.
Daniel Ek
Probably the clearest inspo for Matsson is Daniel Ek, who is also a Swedish billionaire known for his high-profile acquisitions. Ek is the co-founder and CEO of Spotify, who made headlines by acquiring the podcast network Ringer for $200 million in 2020. Interestingly enough, Matsson is offering to pay close to that amount in his acquisition of Waystar.
Peter Thiel
Matsson's left-of-center approach to business may be inspired by PayPal founder and serial investor Peter Thiel. There have been many references to Matsson's micro-dosing, which were likely inspired by Thiel's famous investment in a psychedelics start-up.
Armie Hammer
Aside from business, details about Matsson's personal life also seems to be pulled from famous scandals. Most notably, he admitted to Shiv that he harassed one of his female workers by repeatedly sending her bags of his blood. The form of body-horror abuse echos the cannibalistic allegations made against Armie Hammer.
Leonardo DiCaprio
One detail about Matsson is very clearly spoofing a well-known celebrity rumor. While the Waystar crew visited him in Norway, they gained some intel that Matsson wears headphones while he has sex. The tidbit is taken from a rumor about Leonardo DiCaprio's sex habits that's been floating around the internet for years.
Elon Musk
Whenever a problematic tech billionaire shows up on screen nowadays, the knee-jerk response is to compare them to Elon Musk. Matsson is definitely eccentric, but his obvious parallel to Musk didn't really arrive until halfway through Season 4. After Kendall pitched a product he didn't like to investors, Matsson tried to tank the investment by tweeting out a Nazi-inspored cartoon. The move to try to control the market through a tweet (specifically an incendiary one disguised as playful trolling) is textbook Musk.