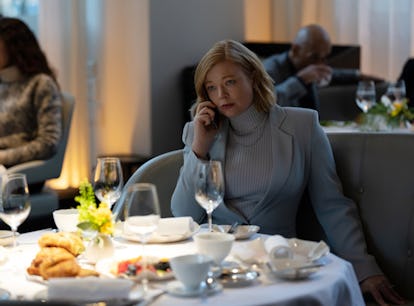 There's A Reason Shiv Still Hasn't Told Anyone About Her Pregnancy On Succession
HBO
All the unsaid truths about the Roy family are finally coming out in the final season of Succession, but there's one pivotal secret that's still suspiciously been kept hidden. Fans had already suspected Shiv may be pregnant at the end of Season 3, and it was finally confirmed a few episodes into Season 4. But with only a few episodes left in the series, Shiv still hasn't told anyone else about her pregnancy. So, what's the deal? Well, it turns out there's a very simple reason why Shiv's pregnancy hasn't been brought up yet, and it has to do with how the final season was written.
Spoiler alert: This post discusses scenes in Succession Season 4, Episode 7. Shiv's journey following her father's death has been... erratic. She surprisingly aligned with her brothers' nemesis Lukas Matsson in secret, and has been chaotically off and on with Tom. Her most ruthless moment yet came at the end of her pre-election tailgate party, when she and Tom finally unloaded all their unspoken resentments at one another on their balcony. As the insults became more and more cutting, Tom threw the most hurtful thing he could say at his estranged wife: "I think you are incapable of love, and I think you are maybe not a good person to have children."
Tom doesn't realize it, but that is the worst thing he ever could have told Shiv. It echoes the biting insult Shiv's mother told her last season, and it stings even more now that Shiv is pregnant. Not that anyone else knows that important detail, though. The pregnancy has only been brought up once, when Shiv received a call from her doctor at the start of Episode 4. Since then, it's been completely ignored.
By the time three whole episodes passed without any mention of Shiv's pregnancy, the unborn baby has become an ongoing joke among Succession fans.
But the reason the pregnancy hasn't been acknowledged doesn't actually have to do with plot — it's simply due to the fact that it was a last-minute addition to the scripts. Shari Springer Berman and Robert Pulcini, the directors for Episode 7, revealed to Vanity Fair that they filmed the whole episode without knowing about Shiv's pregnancy. "We knew that Sarah [Snook] was pregnant. But we didn't know that Shiv was going to be pregnant. We didn't have that specific piece of information when we shot it," Berman admitted.
The directors confirmed that showrunner Jesse Armstrong decided to make Shiv pregnant late in the production process, having been inspired to add the detail by Snook's actual pregnancy while filming.
Since the pregnancy was added last-minute, it seems likely that it will still go unmentioned until a bombshell reveal closer to the series finale. Find out when the truth will finally come out when the final episodes of Succession air Sunday nights at 9 p.m. ET on HBO and HBO Max.