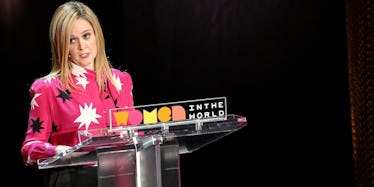 How To Stream Samantha Bee's White House Correspondents' Dinner Special
Getty
The comedy event that's probably going to dominate all of next week is going down this Saturday night. No, "Saturday Night Live" is actually going to be a rerun — I'm talking about the White House Correspondents' Dinner.
The event is going to be hosted by "The Daily Show" correspondent Hasan Minhaj, but comedy fans are getting a special treat this year because just one Correspondents' Dinner obviously wouldn't be enough to fully lampoon the Trump administration.
Samantha Bee is also going to be hosting her "Not White House Correspondents' Dinner" special on Saturday night, and it's getting just as much attention as the actual event. Judging from Bee's sharp sense of humor, it will probably also be more savage.
Bee's special will air on TBS at 10 pm ET, but if you don't have a TV or cable, then all you need to watch is a Twitter account.
The hour-long "Not White House Correspondents' Dinner" will stream on the "Full Frontal with Samantha Bee" Twitter account (@FullFrontalSamB) at 11 pm ET.
The timing works us perfectly so you can still watch both Correspondents' Dinners if you want. Minhaj's official dinner will be broadcast on C-SPAN at 9:30 pm ET and then again at 11:00 pm ET.
So basically, you could watch Sam's 10 pm special on TBS then flip over to C-SPAN to catch the second airing of Hasan's event, or you could watch the 9:30 airing of Hasan's dinner and then go to Sam's Twitter account at 11 pm for her live-stream.
Although it's not the official White House Correspondents' Dinner, I would definitely say Sam Bee's special is not something you want to miss out on.
For one thing, she has an impressive list of celebrities attending her event, including Keegan-Michael Key, Gloria Steinem, Kal Penn and Jessica Williams, according to the Washington Post.
And of course, Sam's responsible for some of the most ingenious segments about the Trump administration, including her iconic investigation into whether Trump can actually read or not.
So tune into Sam Bee's sure-to-be-hilarious "Not White House Correspondents' Dinner" on Saturday, either on TBS or on Twitter.