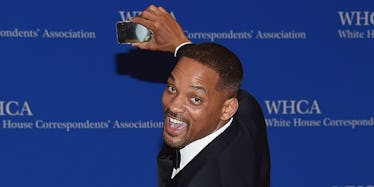 Here's How To Watch The 2017 White House Correspondents' Dinner
Getty Images
The annual White House Correspondents' Dinner is on Saturday, April 29.
Traditionally, this is a star-studded event honoring members of the press through a night of lavish partying and comedy.
Hollywood really came out in full force last year for Barack Obama's last dinner. The 2016 attendees included big names like Kendall Jenner, Will Smith, Helen Mirren, Tom Hiddleston, Kerry Washington, Emma Watson and Aretha Franklin.
If you want to tune in and feel like you are part of this year's festivities, you're in luck because C-Span will be live-streaming it starting at 9:30 pm EST. Even if you don't have cable you'll be able to tune in for free.
You should know, however, this year promises to be a bit different.
For starters, President Trump will not be in attendance. It's the first time in 36 years the president of the United States has not attended the White House Correspondents' Association's annual event.
President Trump announced this decision with a single tweet back in February.
In an email response to the Washington Post, Jeff Mason, president of the White House Correspondents' Association, said,
[The dinner] has been and will continue to be a celebration of the First Amendment and the important role played by an independent news media in a healthy republic. We look forward to shining a spotlight at the dinner on some of the best political journalism of the past year and recognizing the promising students who represent the next generation of our profession.
It appears the dinner will be much tamer overall this year, with significantly fewer celebrities on the guest list.
There will still be entertainment, of course.
Comedian Hasan Minhaj, who is currently a senior correspondent on Comedy Central's "The Daily Show with Trevor Noah," was announced as the host for the evening.
While I'm not normally one to advocate for watching C-Span on a Saturday night, if there were ever a night to do it, it would be this one.
If you aren't planning on staying in, Elite Daily will have you covered with all the best jokes, fashion and moments throughout the night.