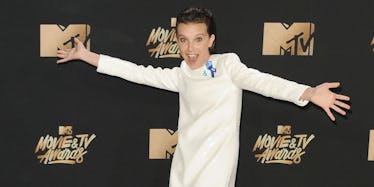 'Stranger Things' Star Millie Bobby Brown Gives Details About Season 2
Getty
Clearly, we all couldn't be more ready for a new season of the nostalgic supernatural hit "Stranger Things" — after all, it was the big winner at the MTV Movie & TV Awards Sunday night. And at the show, series star Millie Bobby Brown dropped fans a few hints about what we can expect from the top-secret season 2.
During the red carpet pre-show, Millie let viewers in on what season 2 is going to be like when it premieres on Netflix in five months. And apparently, you can throw any expectations you may have had that it would be just like the first season out the window.
Millie said the new season is way darker and totally different from the first one, and promised that it's also going to be more beloved.
It's very dark. It's a lot different from season one, you're going to like it a lot more than season one.
Wow, that's a pretty bold claim! After all, season 1 went on to become both a fan favorite and a critical darling... if Millie's right about season 2 being even better, then we're in for a real masterpiece.
It's also interesting to think about how a new season could be darker than the first, which actually got pretty damn dark itself towards the end. From earlier interviews with showrunners the Duffers, we know that the new season is going to focus on everyone trying to return to normalcy after the life-changing events in the Upside Down. So, it sounds like there may be less joking around and more emotional moments.
It's also a bit confusing how involved Millie Bobby Brown's character of Eleven will be in the new season. Although the Duffers have said she's central to season 2, we did see her disappear with the Demogorgon at the end of the first season. Does she somehow survive and get back to reality?
Whatever happens, it's obvious that tons of fans will be tuning in when the new season premieres. After all, the series took home Show of the Year at the MTV Movie & TV Awards on Sunday night, and Millie herself got Best Actor in a Show.
Season 2 of "Stranger Things" will premiere on Netflix this Halloween.