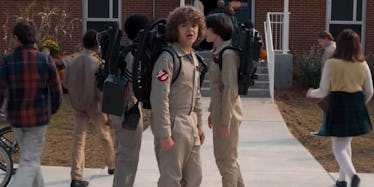 First Trailer For 'Stranger Things' Season Two Is Here And It's Super Creepy
Netflix
IT'S HAPPENING: Season two of "Stranger Things" is really happening, and now we have actual footage to prove it.
The first teaser trailer of the second season dropped after the Super Bowl halftime (so if you turned your TV off after Gaga jumped off stage, you probably missed it).
We already know a little bit about season two, like at least three new faces are joining the cast, including "Lord of the Rings" and "The Goonies" actor Sean Astin.
But this teaser is barely 25 seconds long, so if you blinked, you probably missed something.
But don't worry — that's what I'm here for.
The Eggo joke is here to stay.
The trailer begins with an old-fashioned "Leggo my Eggo" commercial, which is pretty brilliant.
Eleven is definitely back.
We knew this already thanks to this cast photo of the table read, but it's still nice to actually see actress Millie Bobby Brown on screen looking terrified.
Hopper is back, too.
And he seems to be digging for something... or burying something?
Dustin, Lucas and Mike are Ghostbusters for Halloween.
If you look closely, you can see the Halloween decorations in the school window, so I assume that's what the Ghostbusters costumes are about.
And I think that's Mike, and not Will, but it's hard to tell — they have such similar bowl haircuts.
But where is Will?
Now that the foursome is back together, you'd think they'd be biking together, too. But I only saw three bikes. So where is Will? Having his alien babies?
Or... maybe Will is undergoing some tests on Halloween eve?
Again, hard to tell, but I'm pretty sure that's Will on that chair, with Winona Ryder by his side. The timestamp tells us it's October 30.
The Demogorgon got an upgrade.
Like a major, freaky upgrade. Yikes.
We have to wait until Halloween to watch it.
Now this part I'm mad about. This was suppose to be my summer show, dang it! Now what am I going to watch?
Plus now I'm going to be that Halloween party guest who's sitting in the corner watching TV on her phone. Thanks a lot, Netflix.
I'll guess I'll see you guys in the upside down.
Citations: Watch the Super Creepy Trailer for Season 2 of Stranger Things (Cosmopolitan)