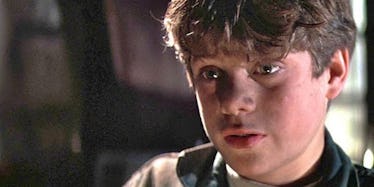 A 'Goonies' Star Is Joining The 'Stranger Things' Cast And Fans Are Loving It
Warner Bros.
"Stranger Things" season two production is now officially underway, and every day we learn more about just how strange it will be.
This week's news, first reported by Entertainment Weekly, is Sean Astin of "The Goonies" and "The Lord of the Rings" fame will be joining the "Stranger Things" cast.
According to EW, Astin will be playing "a kindhearted former nerd who went to high school with Joyce (Winona Ryder) and Hopper (David Harbour) and now manages the local Hawkins RadioShack."
His character's name is Bob Newby.
This casting is especially ironic considering how heavily "The Goonies" is referenced in the original Netflix series.
If you've never seen the 1985 film, all you really need to know is it's about a group of young boys who ride around on their bikes. Oh, and Dustin is basically Chunk.
Astin (who is now 45 years old) played the leader of the kids back in 1985.
So his casting in the new "Stranger Things" season is yet another '80s movie reference by the Duffer Brothers, and fans are really into it.
Of course, younger fans of "Stranger Things" will likely recognize Astin from his more recent role in "The Lord of the Rings" as Samwise Gamgee.
Only Astin could make us cry like that when Sam kept his promise not to leave Frodo.
This casting announcement comes a few weeks after we learned about two other new faces joining the cast for season two — Sadie Sink and Dacre Montgomery.
Sink, 14, will play, Max, a new girl joining the gang of kids, and Montgomery will play Billy, Max's older stepbrother.
Last week, we also learned we'll definitely be seeing more of Eleven in season two — which no one's really surprised about, but it was nice of actor Finn Wolfhard (aka Mike) to confirm it anyhow.
Season two of "Stranger Things" is set to premiere in 2017.
Citations: 'Goonies' Sean Astin to star in Stranger Things season 2 (The Daily Dot)