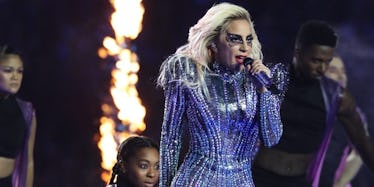 Lady Gaga Jumped Off The Roof At The Super Bowl And Twitter Lost It
REX/Shutterstock
Life's greatest mystery must be mankind's ability to watch the performance Lady Gaga gave during the Super Bowl LI halftime show and then turn his attention back to football, confidently thinking, "Yeah, this is entertaining, too."
Gaga brought the damn house down with her moves, her stunning vocals and her daredevil stage jumping.
Like Pocahontas over a waterfall or that "Sail" cat, Gaga pounced onto the stage from a towering platform that could have doubled as a "Mad Max: Fury Road" set piece.
Naturally, reactions on Twitter ran the gamut because Twitter is an accurate sampling of people from all walks of life (speaking only in terms of those who react vocally to Gaga news).
The jump brought Steve back to his hawrd pawrty days.
David couldn't help feeling beautifully represented in that moment.
Gaga's jump gave Lakynn some insight into his problem-solving skills.
Matthew praised her childlike confidence.
Brandon was just worried about her because Brandon is kind of the mom of the group.
Most of us were straight stunned into silence.
At the end of her performance, Gaga dropped the mic, caught a pass and jumped off the bleachers she brought from home.
No one is too sure where Gaga ended up after her second jump, though a friend of mine suggested,
What if she just keeps falling until she drops from the sky and crashes on top of whoever performs the halftime show next year?
There are worse theories.
Oh, but our girl did more than just jump off stuff, you guys.
She slayed some of her biggest hits, including "Born This Way": an empowering, inclusive anthem we all need to hear on the regular these days.
She also kicked off the halftime show by belting "God Bless America," in a subtle political statement.
After giving us all more than we deserved during Sunday's game, Gaga hopped on Instagram and announced she'd be hitting the road for a world tour.
As usual, Gaga is the reigning queen and we are all just living in the warm glow of her excellence.