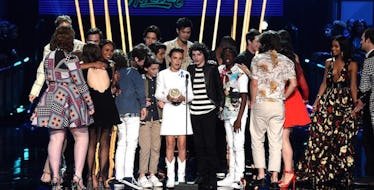 'Stranger Things' Won Big At The MTV Awards And Their Speech Was The Cutest
Kevin Winter / Gett Images
For the first time ever, MTV has crowned the best show of the year!
The MTV Movie & TV Awards (formerly just the MTV Movie Awards) included television in its categories for the first time this year, and taking home the inaugural best show award is none other than "Stranger Things."
Because of course "Stranger Things" was going to be taking home that huge honor!
The children of Netflix's supernatural hit took to the stage and gave the sweetest acceptance speeches ever!
Finn Wolfhard, who plays Mike Wheeler on the show, thanked the producers and creators of the hit series for treating the young cast "like true collaborators and not just little kids."
Then, Caleb McLaughlin (Lucas on the show) took the mic to perform a hilarious ode to Netflix: "Where would we be without Netflix? If you have a bad day, what do you do?"
But leave it to Dustin (AKA Gaten Matarazzo) to really tug at all our heartstrings by giving a heartfelt thank you to his parents and his friends for supporting him.
"Stranger Things" was actually up against some tough competition for the biggest TV award of the night. The show could have easily lost to the two long-running heavy-hitters, "Game of Thrones" or "Pretty Little Liars," or to one of the other super-buzzy instant hits that just premiered this year: "Insecure," "Atlanta" or "This Is Us."
The "Stranger Things" win tonight is also major because as the inaugural winner, it will likely be setting the tone for what shows can expect to take home the Show of the Year award at future MTV Movie & TV Awards ceremonies.
That is, if season 2 of "Stranger Things" just doesn't take home the gold again next year, too!
The next season of "Stranger Things" is due to drop on Netflix this Halloween, so get ready for even more award-winning greatness!