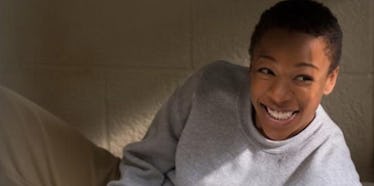 Samira Wiley Explains How That 'OITNB' Spoiler Reflects Black Lives Matter
Netflix
WARNING: In case you missed it from the headline, this post contains major spoilers for the end of season four of "Orange Is the New Black."
By now, you've either seen the end of the new "Orange Is the New Black" season, or you know the big spoiler thanks to Twitter or a loudmouth co-worker.
Either way, this is a safe space to say it: Poussey Washington, played by Samira Wiley, gets killed off.
More specifically, Poussey gets killed by one of Litchfield's prison guards, Baxter Bayler, who accidentally chokes her death while trying to restrain her during a peaceful protest that turns to chaos.
Poussey's death echoes that of Eric Garner's, the unarmed black man who was choked to death by a New York police officer.
And as Poussey's closest prison friends — the other black inmates — grieve for her, their anger at her unjust murder echoes the platform of the Black Lives Matter movement.
That storyline already felt extremely relevant when it aired back in June.
Now, a month later, in the wake of the deaths of Alton Sterling and Philando Castile — black men who were held down and fatally shot police officers — and the mass shooting killing five officers at a protest in Dallas, the ending feels almost prophetic.
Actress Samira Wiley is all too aware of the new weight of the storyline.
In a Facebook live interview with Elite Daily, Samira talked about how her character's death reflects these recent, real-world killings.
She said,
I think maybe when we did it we thought, or had the dream, that we're talking about something that has happened in the past, and reflecting on what has happened. But now, we see that it's still happening. I think about it every day. It's crazy to me that this is the message we were trying to tell with this season, and then it hit us in real time, again. Twice over.
At the end of the day, this is me, this is fake, this is television, but it can elicit real change in people, real change of thought and change of action. I'm really happy to be involved with art that does that.
Poussey has long been lauded as a fan-favorite, beloved by viewers and characters on the show alike. That makes her death particularly painful, and the reaction from fans has ranged from grief to rage.
While the actress understands the anger — encourages it, even — she hopes the people who are tweeting at her are angry for the right reasons. She said,
I am so happy that people are mad. I think that people should be mad. But I want people to be mad about what is happening in the real world, to real people with real lives. I don't want the anger to be misplaced. I think that's what I want people to take away, to know that it is our responsibility as artists to be able to reflect the time that we're living in.
She also, of course, grieves with the fans over the loss of such an exceptional character and admitted she isn't quite ready to let go of Poussey.
It's still hard. I haven't watched all of the season yet, because I believe when I get to the end, that really will be goodbye, and I'm sort of not ready for that yet.
It may be the end for Poussey, but it is by no means the end of Samira's budding career.
The 29-year-old has already landed a role in the upcoming film, "Nerve," starring Emma Roberts and Dave Franco, which hits theaters July 27.
She's also signed on for a recurring role on the new season of FX's comedy, "You're The Worst," where she will play the main character's therapist.
And, clearly, the story she told through her performance as Poussey will remain relevant for a long time. Perhaps one day, Poussey's ending really will be a reflection of the past.