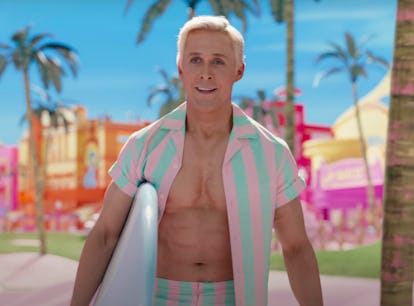 This Ryan Gosling Clip Convinced Greta Gerwig To Make Him Ken
Warner Bros.
Ryan Gosling was always going to be the perfect Ken, and there was one specific moment several years ago that proved it to Greta Gerwig. The Barbie director recently revealed she had already decided Gosling had to play Ken before she even reached out to him, because she was so inspired by a surprising performance he delivered in 2017. No, it wasn't one of his well-known movie roles — one of the sketches Gosling was in while hosting Saturday Night Live stuck with Gerwig, and she immediately wrote his name in her script.
Gerwig shared her deep admiration for Gosling's comedic chops during her appearance on the July 26 episode of the SmartLess podcast, revealing that it was his two stints as an SNL host that really convinced her to make him Ken. "You know those actors you can… just sort of feel that they know what's funny, and I always felt that about him," Gerwig said. "And then I'm a big fan of all of his SNLs, I always thought he was great on SNL."
More specifically, Gerwig was impressed by his appearance on "Weekend Update" when he hosted the show in 2017. She singled out the sketch in which he played Guy Who Just Joined Soho House, a fast-talking sleazy bro who hilariously roasts himself while trying to brag about his social status. Not only was Gosling's pink and preppy look in the sketch brimming with Kenergy, the characterization also nailed something inherent about how Gerwig was approaching Ken. You can check out the sketch that landed Gosling one of his biggest parts ever below.
Gerwig went on to reveal that she was so dead-set on Gosling playing the part, she'd written his name in the script without even speaking to him. "We actually, in writing it, cast Ryan, like we wrote his name into the script and everything… and [Gosling's name] was everywhere," Gerwig said. "And then when we handed them the script, the studio was like 'Oh, it's so wonderful that you know Ryan.' And I was like, 'Oh, I don't know Ryan. I've never met Ryan, I have no idea.'"
It just goes to show that Gosling's Kenergy was undeniable, even before he took his trip to Barbie Land.