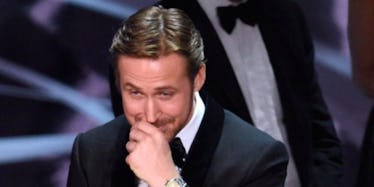 Ryan Gosling Laughed At Oscars Fail Because He Thought It Was Really Way Worse
ABC
Unless you're one of those people who laughs when they're relieved or nervous, then you probably won't understand.
For the rest of us who do laugh when we're uncomfortable -- WE ARE JUST LIKE RYAN GOSLING!
AND WE ALL LOOK LIKE THIS WHEN WE TAKE OFF OUR SHIRTS.
Anyway, besides bragging about what I have packed underneath this T-shirt, I want to talk about the Oscars again.
Mainly, I want to discuss what was quiet possibly one of the worst secondhand embarrassments of my life:
"La La Land" being pronounced the winner of Best Picture because of a card mix-up, when really, "Moonlight" won the award.
Ugh, excuse me while I dig my own GRAVE. I hate this.
While most of the cast and crew of "La La Land" looked a mix of confused and heartbroken, the camera focused for a mere second on Ryan Gosling -- who apparently thought the whole thing was fucking HI-larious.
But he wasn't giggling because of the situation -- he was giggling because he was so gosh darn relieved.
In an interview at the Adobe Summit, Gosling revealed,
What really was happening as I was watching, it was surreal anyway, I was watching people start to have this panicked reaction in the crowd and guys were coming on with headsets and I felt like someone had been hurt. I thought there was some kind of medical situation, and I had this worst case scenario playing out in my head. And then I just heard, 'Oh, "Moonlight" won,' and I was so relieved that I started laughing.
I TOTALLY GET IT, RYAN. I TOO ALWAYS JUMP TO THE WORST POSSIBLE SCENARIO IN MY HEAD.
Whenever I hear anyone laugh in public, I assume they're laughing at me.
Whenever anyone calls me on the telephone, I assume someone I know has died.
Whenever I take off in an airplane, I assume it is going to crash.
You know, quirky stuff.
Thanks, Ryan. I needed to hear that right now...
Gosling went on to say,
I was also so thrilled that 'Moonlight' won, I know the director… I've worked with them before. It's such a groundbreaking film, made for a million dollars, an incredible achievement, and I'm so happy for them that they were being recognized.
Citations: Ryan Gosling On Why He Was Laughing During The Oscars Fiasco And His Thoughts On Being A Meme (BuzzFeed)