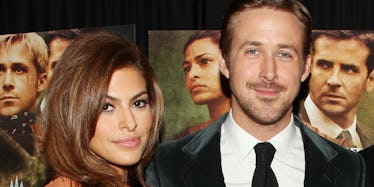 Ryan Gosling Says Eva Mendes Actually Came Up With Iconic 'La La Land' Line
REX/Shutterstock
Everyone has their own opinion on "La La Land." Some people will agree the film was amazing, unforgettable and an instant classic.
Others will disagree and say it was the worst film they've ever seen.
But I think there's one thing we can all agree on here...
One of the film's most iconic lines will always be the scene in which Sebastian (Ryan Gosling) says, "That's LA. They worship everything, and they value nothing."
That particular line is even more mindblowing if you live in Los Angeles. Because it's so fucking true! But who's responsible for it? Who's the mad genius behind the line's inclusion in the film?
Was it Emma Stone? Maybe director Damien Chazelle had something to do with it? Was it Gosling himself? Nope, nope and nope.
As a matter of fact, the 36-year-old actor recently spilled the beans during an interview with Entertainment Tonight, revealing wife Eva Mendes was actually the mastermind behind the line.
Gosling admitted,
'LA worships everything and values nothing.' That was something my lady said to me one day, and I thought it was so funny I asked her if I could put it in the movie.
I KNEW IT! Something about that line just screams Eva Mendes. Ryan Gosling went on to say,
She was kidding, but it's a funny thing to say... I loved when she said it, because it's funny enough to have some truth to it, you know? But it's obviously a joke, so it just seemed appropriate for the movie.
I get it, Ryan. You're trying to be all nonchalant about it, but the line is actually 100 percent truthful in my book. I'm sure anyone who lives in LA will agree. This city totally is the land of valueless worship.
You hit the nail right on the head, Eva!
During the same interview, the "La La Land" actor was asked whether or not he'll be attending the upcoming Academy Awards with Eva Mendes. Gosling stated,
Oh, I'm not sure. It's still a little while away.
Well, he's got some time to think about it, but he should probably consider bringing her along.
After all, if "La La Land" were to snag the Oscar award for Best Picture this year, she should at least be in the room to take credit for her flawless writing skills.
Citations: Ryan Gosling Gives Update on Whether Eva Mendes Will Join Him at the Oscars (Entertainment Tonight), Eva Mendes Came Up With One Of La La Land's Most Memorable Lines (Refinery29)