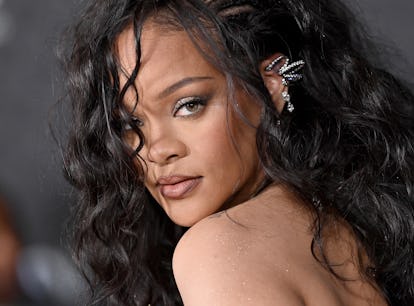 Rihanna Announced A Second Song For Wakanda Forever
Axelle/Bauer-Griffin/FilmMagic/Getty Images
Well, that didn't take long, did it? Though Rihanna made her long-awaited music comeback with the emotional ballad "Lift Me Up" on Oct. 28, the star is already moving on to a new single. As it appears on Apple Music, her song "Born Again" will be released alongside the full Black Panther: Wakanda Forever soundtrack on Nov. 11.
A preview of "Born Again" can also be heard on Apple Music. "Wherever you are, I'll be there / We carry on / Born again," Rihanna sings. "I give my all to this place / I give my whole soul and whatever it takes / Never run away."
Like "Lift Me Up," Rihanna's new single is a powerful ballad that mirrors the film's themes of loss and new beginnings. The Black Panther sequel arrives a little over two years after Chadwick Boseman died after a battle with colon cancer. Boseman played Black Panther himself, King T'Challa, in the franchise, and the film series subsequently killed off his character following Boseman's death. The sequel chronicles the aftermath of T'Challa's death as the people of Wakanda mourn.
The lyrics for "Born Again" can be interpreted as from the point of view of the citizens of Wakanda, including T'Challa's family. The lyrics could also describe Wakanda's new leader, who may be feeling the pressure of having to live up to the Black Panther title.
"And I'd relive this just to see your face again / I know that you'd do the same / Born again," Rihanna sings. "Just tell me what I need to do / I'd die and come back just to love you / Just tell me I'm begging you."
Check out the teaser for "Born Agin" below.