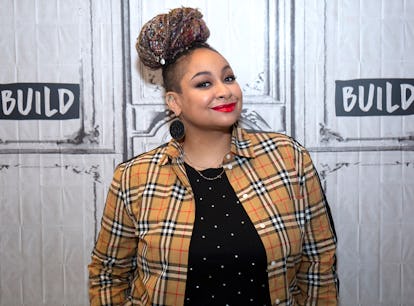 Raven-Symoné Had Three "Painful" Cosmetic Procedures Before Age 18
"You get that done and it's still not what everybody wanted to see."
Santiago Felipe/Getty Images Entertainment/Getty Images
Raven-Symoné has been an open book lately. On her Best Podcast Ever With Raven and Miranda, which she hosts with wife Miranda Pearman-Maday, the Disney star has shared several memories about her time as a child actor. And while some moments have been lighthearted, others have been heartbreaking. In the latest episode of the series, Symoné spoke about being body-shamed as a teen, and how this led her to have two breast reductions and liposuction before she turned 18.
On the Aug. 6 episode, the couple spoke about the reported surge of actors getting cosmetic surgery during the current SAG-AFTRA strike. This led Symoné to reflect on her own surgeries, which she admitted she's publicly "never shared" before. "There was paperwork involved," she began, adding her dad Christopher Pearman "strongly" suggested she should get her breasts reduced. "He was like, 'So you don't feel bad, is there anything you want?' I was like, 'What? Yeah, if I get lipo, will people stop calling me fat?' So, I got a twofer."
To Symoné, these procedures seemed like a decent resolution to the discomfort she'd been experiencing. According to her, before the surgeries, she dealt with back pain due to having "triple D" breasts. However, there were some complications with her original reduction. "I actually had a seizure when I woke up from the surgery," she said. "I remember waking up and seeing everything. I started to have this dry mouth and couldn't breathe. It was just a mess, just being that young and the pain of it all."
When Miranda asked about her recovery process, the Raven's Home actor said she "disassociated" at the time, and still has remaining scar tissue from the procedure. As for her second breast reduction, Symoné explained she gained weight after the initial surgery, and she worried her breasts were "still too big for others' feelings."
That fear became a reality for Symoné, as she revealed the body shaming didn't stop after her three surgeries. "I still got reamed through social media because I wasn't skinny as everybody else. They still called me fat. You get that done and it's still not what everybody wanted to see," she said.
This isn't the first time Symoné has spoke about the pressure of fitting a certain body standard. In a 2015 episode of The View, the actor shared she was criticized for her weight as a 7-year-old on The Cosby Show. "I remember not being able to have the bagel," she recalled at the time, per People. "People would be like, 'You can't eat that. You're getting fat!'" She also revealed she started wearing Spanx at 14, shortly before she snagged her lead role on That's So Raven in 2003.
In that same People report, Symoné said she didn't experience any body shaming when she returned to Disney for Raven's Home in 2017. She felt more "accepted" on set and that helped her embraced her body. "The world is too big to have one sort of view to show beauty, because then you are literally destroying society," she said.