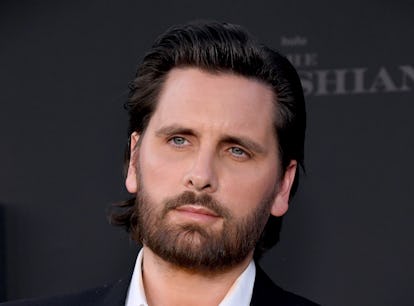 Scott Disick's Daughter Dragged His Pattern Of Dating Girls Half His Age
It's pretty clear to everyone that Scott Disick has a type — even his 11-year-old daughter can see it. And Penelope Disick is ready for her dad to break his pattern. When the topic came up of who Scott should date next in a recent episode of The Kardashians, Penelope was very adamant about the one requirement she has for her dad's next girlfriend: "Older."
Scott's love life was the focus of the Oct. 19 episode of The Kardashians, as Kris Jenner and Khloé Kardashian pushed him to start dating more after a recent slump. Scott admitted he's been a bit off his game as he's been recovering from serious injuries incurred from a car accident, so Kris and Khloé decided to set him up with someone. To do that, they questioned him about what type of woman he's looking for.
Not that they really needed to ask to figure out Scott's type. The 40-year-old has a very infamous track record of young models. Since ending things with Kourtney Kardashian in 2015, Scott has pretty much exclusively dated women in their early 20s. All of his recent exes, such as Holly Scarfone, Hana Cross, and Amelia Hamlin, are about 15 years younger than Scott.
His most public relationship since Kourtney began when he started dating Sofia Richie when she was 19 years old in 2017. The couple broke up three years later.
So, when Scott's daughter Penelope heard her grandma and aunt discuss who her dad should date next, she was quick to chime in with her only requirement. "He was saying late 20s," Khloé told her neice, filling her in on what her dad is looking for.
"No! 20s?" Penelope shot back. "You're 40. You're not gonna date someone 19."
Penelope and Khloé agreed Scott needs to be with someone "older than he's used to." But when Kris was selecting someone to set Scott up with, she didn't dare choose someone in their 30s. The momager sent Scott on a date with a 29-year-old named Celine.
It's unclear if things progressed between Scott and Celine after their first date, but at least 29 is a bit more age appropriate for Scott compared to his past relationships.