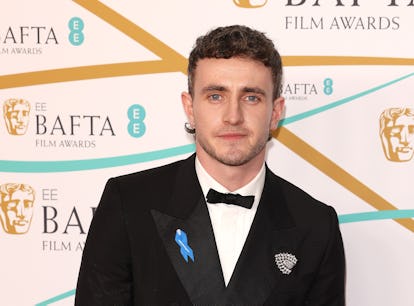 Everyone Mispronounces Paul Mescal's Name, So He Explained How To Say It
You've probably been saying it wrong this whole time.
Neil Mockford/FilmMagic/Getty Images
Paul Mescal's name may be everywhere right now, but not many people are saying it right. The Irish actor recently revealed that he's heard numerous people mess up his last name, and he blames a particular drink for all the confusion. To see if you've been getting it wrong, watch Paul Mescal explain how to pronounce his name.
Mescal set the record straight on the pronunciation of his last name during a Feb. 23 video interview with The Hollywood Reporter. "People get confused with how to pronounce my name because of the drink mezcal. Everybody does it," Mescal said, in response to a playful question about if he'd ever start his own mezcal brand. "I pronounce it Mescal, and I wonder if I launched a tequila line, I would call it Mescal's mezcal."
The actor clarified that his last name is not meant to sound like the Mexican liquor, but should rather be said with a soft "s" and "a," like "meh-skull." It'd probably be better to hear Mescal say it himself, wouldn't it? Check out the below video for the correct pronunciation of Mescal's name.
At least Mescal is in some pretty amazing company in terms of commonly mispronounced celebrity names. A lot of super-famous celebs have had to clarify how to correctly pronounce their names over the years, including Emily Ratajkowski, Tove Lo, Ariana Grande, and Mescal's fellow Irish-born movie star Saoirse Ronan.
Some people may not say Mescal's name correctly, but it sure is a name that pretty much everyone is familiar with seeing over the last couple years. After he rose to fame playing the introspective student Connell in 2020's Normal People, he became a pop culture fixture thanks to his whirlwind relationship with Phoebe Bridgers and his Oscar-nominated performance in the 2022 coming-of-age drama Aftersun.
Now, if Mescal does wind up winning that Best Actor award on Oscars night on March 12, the presenter will have no excuse not to get his last name correct.