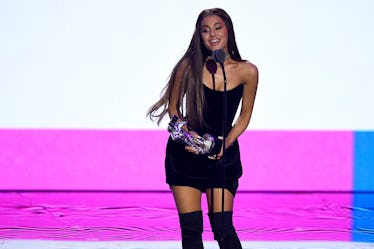 You've Been Pronouncing Ariana Grande's Name Wrong This Whole Time
Theo Wargo/Getty Images Entertainment/Getty Images
Have you ever had that thing happen to you when something you believed to be true your whole life is actually a lie? Well, THAT'S WHAT THIS FEELS LIKE ARIANA GRANDE, IF THAT'S YOUR REAL NAME. The "God Is A Woman" pop star recently revealed the correct way to pronounce her last name, and yeah, you've definitely been saying it wrong. I know what you're thinking, "But, it seems pretty straightforward. 'Grande,' ya know, like the Starbucks cup." Yeah, well, you would think that, reader. So, exactly how do you pronounce Ariana Grande's last name? Buckle up, because it's about to get weird in here. It's actually Gran-DEE. Not Gran-DAY.
I know. Wild.
During an interview with Beats 1 radio, Grand-DEE (eye roll) explained her grandfather made the decision to pronounce their name with a hard "E" to make it more American-sounding. She explained to host Ebro Darden, "My grandpa said Gran-DEE. Gran-DEE was kind of the Americanized version of it, made it more chill." Apparently, Grande's brother Frankie was the one to swap it over to the "A" sound your familiar with today. She continued, "... then my brother was like, we should say Gran-DAY. It's so fun to say it. It's a funny name ... I grew up saying Gran-DEE and I think of [my grandpa] and I wish I said Gran-DEE more."
She went on to make fun of her "super-Italian" full name, Ariana Grande-Butera, saying it made her sound like a dinner special at an Italian restaurant. "I'm like a pizza. I'm a f*cking meatball," she said.
You can catch the convo and correct pronunciation beginning at the 0:40 mark in the video below.
The entire reason they even got on the topic of names is that Darden was wondering what Grande's game plan is once she marries Pete Davidson. Great question, Darden! According to Grande, she does have plans to hyphenate Grande-Davidson, though she is considering changing her professional name to simply Ariana, and dropping her surname altogether. "I feel like I'd like to eventually just be Ariana, ya know?" she said. "Isn't that sick? I feel like it's got a ring to it."
The truth is, this girl's fans will follow her anywhere no matter what she decides to call herself. Her new album Sweetener is blowing up the music charts and fans are living for her sultry dance beats and empowering messages. Plus, ya know, they love that one track for Pete Davidson, aptly titled "Pete Davidson."
During Grande's recent acceptance speech for Best Pop Video at the 2018 MTV Video Music Awards, she shouted out her fiancé in the most "them" way possible. "Pete Davidson," she said, "thanks for existing." All together now... awww! If I may, the two truly seemed to complete each other on the red carpet, and, so far, show no signs of slowing down. Grande confirmed during her Beats 1 interview that their wedding will happen in "less than five years," though she has to finish her tour and all the juicy goodness that comes with launching a new album, first.
Fair enough. Love to love you, Ariana Gran-DEE. Whoever you are.