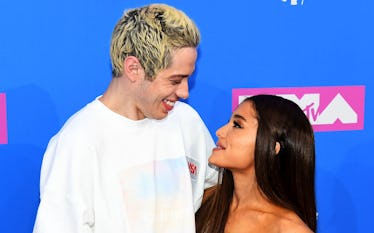 Pete Davidson & Ariana Grande Look So In Love On The VMAs Red Carpet
Nicholas Hunt/Getty Images Entertainment/Getty Images
When the performers for the MTV Music Video Awards were announced a couple of weeks ago, few were surprised to see Ariana Grande's name among them. The singer has been on a massive push lately to get her newest album, Sweetener, in the public eye ahead of it's Aug. 17 release. Her recent engagement to actor Peter Davidson has also been front and center. With Grande sure to attend, fans are wondering: Is Pete Davidson at the 2018 VMAs? Of course he is, and these photos of Ariana Grande and Pete Davidson are adorbs.
This is Grande's big night. The build-up to Sweetener has been tremendous, with her first single, "No Tears Left to Cry," dropping all the way back on April 20 of this year. She also was featured "Bed" with Nicki Minaj two months later on June 14, and returned the favor with "The Light Is Coming" on June 20. Her second single, which she'll be performing tonight, is "God Is A Woman," which dropped back on July 13.
This performance comes only three days after the full album arrived on Friday the 17th. With rave reviews and a good chance the album will be bowing somewhere around the top of the Billboard charts at the end of the week, this evening's performance is something of a victory lap for Grande. And of course, a chance to be seen in public with her fiancé for the first time as an official couple.
Grande's courtship with Davidson has been a bit of a whirlwind romance. Davidson has been a cast member on Saturday Night Live since 2014 when he was barely 20 years old, but unlike some of the older, and more famous members of the crew, he's flown under the radar for most of his time on the show.
He and Grande met during her second appearance on the show in March of 2016, but he was dating someone else at the time. She then went on to get into a relationship with Mac Miller, which ended this year at the beginning of May. Within weeks Davidson announced he was also single, and suddenly they were both leaving Instagram clues about each other. By June they were wearing matching outfits and sporting tattoos. By the end of the month, they had confirmed their engagement, and they were moving in together.
Most of Davidson and Grande's relationship has played out for their fans on Instagram where they can control the image. The VMAs Red Carpet is their first chance to appear together on the red carpet as a couple since the confirmation of their engagement. But when it came to answering questions on the carpet tonight about their courtship, the two fled.
With Grande having no less than five nominations at tonight's ceremony, Davidson is definitely there to cheer her on. Grande is currently nominated for Artist of the Year, as well as four nominations for "No Tears Left To Cry," including Best Visual Effects, Best Cinematography, as well as Best Pop Video and Video of the Year.