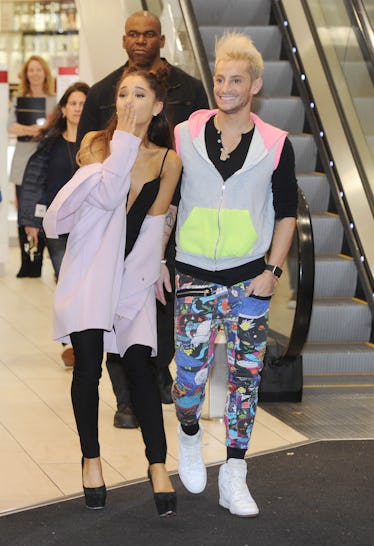 Frankie Grande Reveals His Thoughts About Ariana's Quick Engagement To Pete Davidson
Stuart C. Wilson/Getty Images Entertainment/Getty Images
You may have a now-vintage bunny mask sitting in your closet, but Frankie Grande's enthusiasm for his younger sister puts yours to shame. The release and subsequent praise of Ariana Grande's otherworldly new album, Sweetener, was no surprise to her older brother, but her surprise engagement? He's giving that the same amount of brotherly love. Frankie Grande's reaction to Ariana Grande's engagement to Pete Davidson is nothing if not "awwwww"-worthy.
On the pink carpet at this year's MTV's Video Music Awards, Elite Daily asks the male Grande his feelings and initial reaction to his sister's speedy engagement. "I was elated because she's so happy, and when she's so happy it washes over me like a wave of joy and happiness and that's it," Frankie shares. "I just felt so much joy and it's really just a great time for the Grandes."
A great time, indeed. Frankie's sentiments have been echoed by most of Ariana's fans, who are deeply happy with her happiness. Although others, who are equally as deeply invested in her personal life, felt blindsided by the quick engagement. The two started dating in May, and their engagement made headlines at the beginning of June. While their immediate commitment to each other was somewhat jarring for onlookers, anyone who follows them on social media (or doesn't live under a rock) can see the two are simply smitten.
If you're someone who hasn't fully gotten behind the relationship yet, it's hard to deny the positive effect Pete Davidson has had on her music. As mentioned, Ariana Grande's latest album Sweetener, which was just released on Friday, Aug. 17, was met with a standing ovation. Her newest songs juxtapose the high energy of classic pop with an effortless crooning only she can pull off.
Elite Daily asks Frankie his favorite songs on the record, as hard as it may be for him to choose: "Obviously I'm obsessed with the singles, my favorite other song is 'goodnight n go.' So Imogen Heap has been an inspiration to us for so long, so when I found out she was going to put 'goodnight n go' on the album, a cover of Imogen Heap, I broke down crying. It's such a full circle moment for me and it's got such a unique combination of like etherial qualities and like trap music. Her music is so evolved, and I think that's one of the most evolved songs, and I enjoy it the most."
The singles Frankie mentioned are "god is a woman" and "no tears left to cry," which were both were exceptionally reviewed by fans and press alike.
As for Frankie, aside from being his sister's biggest cheerleader, he's working on a musical number all of his own. Frankie explains his latest project "Titanique The Musical, it's a musical parody of the film Titanic with Celine Dion's music." It seems like a surefire thing that pairing any Grande sibling with the stylings of Celine Dion is going to be good.
Follow along with Elite Daily as we cover this year's MTV Video Music Awards.