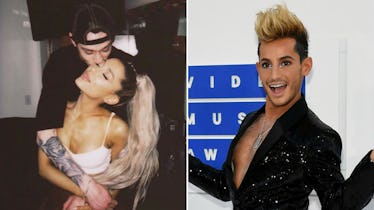 Here's How Ariana Grande's Brother Really Feels About Her Relationship With Pete Davidson
Ariana Grande on Instagram; Jamie McCarthy/Getty Images
It's been quite a whirlwind romance for Ariana Grande and Pete Davidson, and fans are really just living for it. In just a matter of a few short weeks, the world found out about their relationship, their love, and their reported engagement, and honestly, I'm actually stoked for these two. And there's someone else who is beyond happy for the couple, too — Ariana Grande's older brother, Frankie. Sure, it might seem like the reportedly engaged couple are taking things a liiiiiiitle fast, but Frankie Grande's comments on Ariana Grande and Pete Davidson's relationship show that there's nothing but love, love, love for the new couple.
Frankie Grande spoke to Entertainment Tonight about how excited he is for his sister and Pete Davidson, and how supportive the entire Grande family is about Ariana's choices. When asked about the Grande family's "big news" at Broadway Sings for Pride's Revolution Annual Charity Concert in New York City on Monday, June 18, he said, "Oh, my God, I'm so happy for my sister, for my whole family. It's a big year for her."
Um, yeah. You can say that again, considering Ariana Grande's professional life is just as booming as her personal one, with her highly anticipated new album, Sweetener, set to drop soon.
Grande's older brother also gushed about his sister's success, telling Entertainment Tonight, "Sweetener's coming — very, very excited," adding that Grande's newest single, "'The Light Is Coming' is out in, like, minutes, which I'm unbelievably excited about, and just as a family, we're in a really good place. It's a time to celebrate. It's joy, it's happiness — it's the Grandes' year. Look out for us 'cause we'll be everywhere!"
Please, as if we haven't been looking out for you in the first place?
C'mon, Frankie! Let's be real.
Grande's brother also had a few things to say about that song that everyone is currently talking about. You know, the song called "Pete" off her Sweetener album? Apparently, Frankie Grande has heard the entire song (which will serve as an interlude on Sweetener), and called it "remarkable," but in all honestly, everything Ariana Grande does musically is remarkable, so this isn't all that surprising. He said,
There's an interlude called 'Pete' on the album. Yes, I've heard the whole thing. It's truly remarkable — it's a remarkable piece of work.
And about that song: on Sunday, June 17, Grande took to Instagram to post a teaser clip of the song, though fans didn't yet know which track it was. The clip is only about five seconds long, but it will still put you in a ~mood~ upon listening, because it's got a cool, chill vibe:
Fans became really excited over the preview (because duh), and wanted to know what the song's title was. A Twitter user tweeted at Grande, asking if she could reveal the track name, and Grande actually responded: "the one from today isss from an interlude ab pete," Grande told fans. And the next tweet, she added, "'pete' !"
Instead of telling Grande just how adorable naming a song after your love is, one fan on Twitter gave Grande some, erm, unnecessary input, writing, "'pete' girl we know you love him but are you dumb":
Excuse me?
Instead of getting heated, Grande shrugged off the comment like it was nothing, responding simply with, "nah."
ARIANA YOU ARE MY HERO.
Then Grande became very candid, explaining how life is fleeting and she's simply happy with where she's at in life, and she's elated to be as in love as she is with Pete. She wrote,
the truth is ☕️ i been the f*ck thru it and life's too short to be cryptic n sh*t about something as beautiful as this love I'm in. so ǝʇǝԀ it is
PETE IT IS, YOU GUYS.
Despite neither Grande nor Davidson giving a concrete confirmation of their reported engagement, Davidson did take to Instagram on June 15 to share a photo of what looks to be Ariana Grande's hands with a beautiful ring on her left ring finger, seemingly confirming their engagement. Elite Daily reached out to Grande and Davidson's teams for further confirmation on their engagement, but did not hear back by the time of publication.
So you know what? Let's just be happy for our girl Ariana, who is clearly doing some big things in 2018. She's making new music, loving on her man, and we should all just be happy for her, OK? OK.