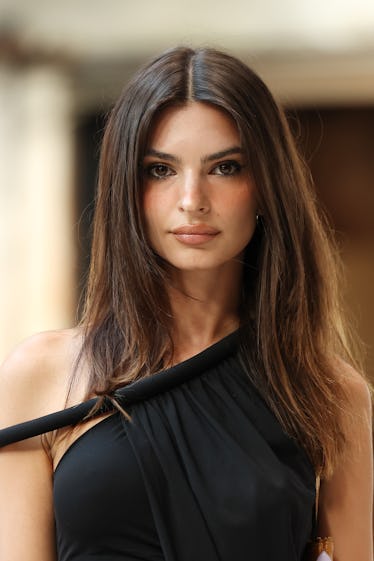 You've Prob Mispronounced Emily Ratajkowski's Last Name
Vittorio Zunino Celotto/Getty Images Entertainment/Getty Images
Well, it's time to add Emily Ratajkowski to the list of celebrity names everyone's been pronouncing wrong. It's always interesting when a celebrity gives a diction lesson on their name, especially when you've been unintentionally saying it wrong for *years.* In a recent Instagram video, the model cleared the air about what the correct pronunciation is, and it might intrigue you to brush up on your Polish.
On Feb. 15, fashion house Tory Burch shared a video of Ratajkowski getting ready to walk their fall show for NYFW. While backstage, senior Vogue writer Liana Satenstein asked how to pronounce her last name.
"Rat-ah-Cof-sky," she said, before the video jumped to her saying her name the way fans have usually pronounced it: "Rat-Ah-Cow-Skee."
The model (who is Polish and Israelian) then clarified the two vastly different enunciations, saying that it was more feminine to use "Rat-ah-Cof-sky." That comment was more so a nod to the theme of the fashion show, which Tory Burch described as "challenging the rules around the idea of perfection and femininity."
Tory Burch also posted a clip from the same interview on TikTok. The video was seemingly in response to a comment Ratajkowski made doubling down on the pronunciation, in which she used a rat, cow, and ski emoji to help sound it out.
"It's 🐀🐄🎿 everyone! Liana and I are both Eastern European so I was being playful! This is how you say it in Polish!" she wrote. OK, but the use of those three emojis to accurately spell out her last name is spot-on.
This isn't the first time Ratajkowski has addressed her last name. In a 2013 interview for Rolling Stone, the model shared a tip for fans to ace the pronunciation. "The J is silent. That's the trick. Occasionally people get it right on the first try, just through random luck," she said at the time.
In the same interview, she revealed that many people have told her to change her name; however, her father influenced her to never change it. That's definitely words of wisdom, as she can now ask for fans to put respect on her last name.