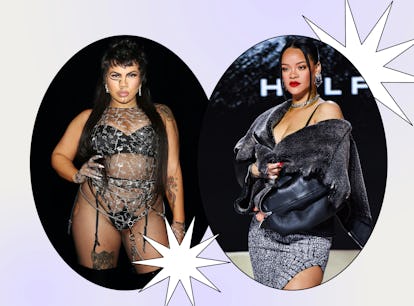 What To Know About Parris Goebel, Rihanna's Halftime Show Choreographer
She's also worked with Rihanna on her Savage X Fenty show.
Jerritt Clark/Getty Images Entertainment/Getty Images, Anthony Behar - PA Images/PA Images/Getty Images
Let's be honest: Rihanna shined bright like a diamond during her Super Bowl halftime performance. In 13 minutes, the singer flexed her charismatic stage presence through her legendary setlist of bad b*tch anthems. Also, her genius nod to her Fenty Beauty brand in the middle of the show? So iconic. Rihanna's set didn't have too many frills that would dim her spotlight; however, that absence wasn't a bad thing. That minimalism allowed her dancers to go beast mode in their uniformed choreography. For that, fans can thank Parris Goebel.
Like many in-demand choreographers, Goebel has quite the star-studded dance card. The New Zealand dancer has created dance routines for artists like Janet Jackson, Justin Bieber ("Sorry" and "No Sense,") SZA ("Hit Different,") and most frequently, Rihanna.
If her name looks familiar, you've probably seen it gliding in the end credits of Rihanna's Savage X Fenty fashion shows. Goebel has choreographed every installment of the sultry lingerie gig, with the third volume earning her an Emmy in 2022. She was also the hidden mastermind behind J. Lo and Shakira's 2021 Super Bowl halftime performance.
According to Dazed, Goebel always knew she wanted to be a performer. As a young child growing up in Auckland (the largest city in New Zealand), she told the outlet in a November 2020 interview that there weren't "many resources" in the dance community. Instead of relying on a mentor, she obsessively studied dance-helmed dramas like Save The Last Dance and You Got Served.
"I just knew that I was going to be a part of that world one day," Goebel said, per Dazed. "When you're born with a gift, it's your destiny and there will always be a feeling that pulls you towards sharing it with other people."
She also took inspiration from artists like Missy Elliott and Prince, who embody opposite dance styles but similarly went against the grain. While Missy's moves involved fierce, hip-hop infused romps, Prince's dancing cadence was sensual and a bit mysterious.
That fusion sits front and center in Goebel's dance routines, including Rihanna's Super Bowl halftime performance. Her choreography slickly flows between hard-hitting struts and dramatically flirtatious whines, yet there's this awing cohesiveness about it that leaves you stunned. Take RiRi's riveting transition from "Work" to "Wild Thoughts," where the dancers flocked around her in a synchronized pose. For a split second, this arrangement looked like a painting. Even when they interrupted their paused positions for some on-stage gliding, the overall set was still beautifully uniformed.
Before Rihanna's halftime show, Goebel reflected on both their creative relationship and personal career growth on Instagram. "A little girl from Barbados and a little girl from New Zealand grew up into boss b*tches and took over the Super Bowl half time show together. We far from home but we made it!!!! I love you 4L. Let's do this sis," she wrote in the caption, with two photos of her and Rihanna happily embracing one another.
After Rihanna's halftime performance, the choreographer praised the singer once more in another Instagram post. In the comments section, artists like Hayley Williams, Zara Larsson, and Nicole Scherzinger commended Goebel for her fiery dance routine. If you're now a fan of Goebel's, you're clearly in good company.