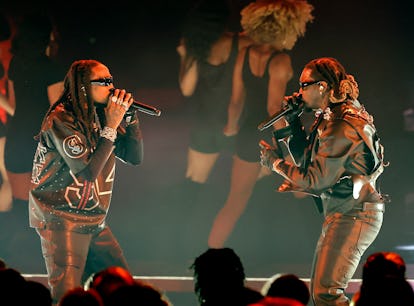 Quavo & Offset's BET Awards Tribute To Takeoff Made Fans Emotional
"Not me crying at Quavo and Offset's performance."
Kevin Winter/Getty Images Entertainment/Getty Images
Takeoff's legacy will live on. On June 25, the Migos' Quavo and Offset reunited for a surprise performance at the 2023 BET Awards. This moment shocked Twitter, as the rappers haven't graced the stage together in nearly two years. Their fiery set included many thrills, including a heartfelt tribute to their late bandmate Takeoff.
When the award show returned from a commercial break, both the audience and online viewers weren't aware of who was performing. Without an announcement, the camera panned to show a curtain being raised on a darkened stage. Two shadowy figures — which turned out to be Quavo and Offset — emerged behind the platform while a faint image of a Space Shuttle appeared in the background. The performers were still a mystery; however, it wasn't until Takeoff's gruff vocals on "Hotel Lobby" (his 2022 duet with Quavo) filled the venue that the audience knew this was a Migos reunion.
As Takeoff's verse continued, an unoccupied spotlight appeared for the late rapper, who died last November after a fatal shooting outside a Houston bowling alley. Quavo and Offset then yelled "Do it for Take!" and pointed towards the rocket, which transformed into a photo of Takeoff reaching for the sky. Afterwards, the duo performed the group's 2017 hit, "Bad & Boujee."
This honor warmed fans' hearts, especially since the group disbanded months before Takeoff's death. At the time, Offset allegedly cut ties with the band and left Quavo and Takeoff to create their own duo-effort named Unc & Phew. This moniker spoke to their bloodline: Takeoff was Quavo's nephew.
In an October 2022 interview with Big Homies House, Quavo hinted the Migos were on a hiatus due to an ongoing riff with Offset. "We stand on real deal loyalty, and sometimes that sh*t ain't displayed. This ain't got nothing to do with no label, no paperwork, no QC, nothing. This got something to do with the three brothers," Quavo said at the time. "And sh*t— it is what it is. Right now, we gon' be [Unc & Phew] 'til time tell."
The drama hit a fever pitch in February, when Quavo and Offset allegedly got into a physical altercation backstage at the 2023 Grammy Awards. TMZ reported the incident happened before Quavo performed as part of a tribute for Takeoff; however, Offset denied the rumors on Twitter.
Now, it appears the duo are on good terms. Before their surprise performance at the BET Awards, the rappers reunited to celebrate Takeoff on what would have been his 29th birthday. This tribute was a warm send-off to the Migos' reigning legacy, and it made Twitter (including Cardi B) emotional.
Quavo and Offset's sonic chemistry shined onstage.
Fans couldn't deny how heartwarming this reunion was.