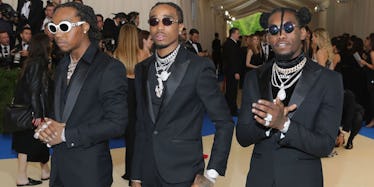 Here's Where Migos Got Their Name, In Case You Were Wondering
Neilson Barnard/Getty Images
Migos is having a breakthrough year with their chart-topping hit "Bad and Boujee," a single off their second album, Culture.
The rap trio, who formed in 2009, is up for four nominations – Viewer's Choice Award, Best Group, Best Collaboration, and Video of the Year – at the BET Awards on Sunday, June 25.
Migos will also be performing Sunday night, along with Future, Gucci Mane, Lil Wayne, Bruno Mars, and more.
With all the recent hype around the group, and the fact that "Bad and Boujee" has been stuck in all our heads for about six months at this point, it's probably about time we got to know Migos a little better.
For starters, Migos consists of members Quavo, Offset, and Takeoff. They all grew up together in Lawrenceville, Georgia. Offset and Takeoff are cousins and Quavo is Takeoff's uncle -- so they're keeping it in the family.
As for how they came up with the name Migos, it seems like there are a couple different reasons.
In an interview with radio station Hot 97 back in 2013, Quavo and Takeoff explained,
We always ran together on the North side, as Migos, as boys.
When pressed if "Migos" actually referred to the Spanish word "amigos," which means friends, Quavo said,
Yeah, yeah, but actually, it's the hub of drugs out there, so everything that comes to Georgia got to touch Gwinnett first, so we just call it Migos.
For those unfamiliar with Georgia counties, Lawrenceville (where they grew up) is located in Gwinnett County.
At the time of the above interview, their third member, Offset, was serving a prison sentence. In 2015, all three of them were arrested on gun and drug charges. Quavo and Takeoff were able to take pleas and served no time, but Offset served an eight-month prison sentence.
Now, the group is back together and thriving following their January album release.
But "Bad and Boujee" isn't the first you've heard of their music. Migos' first major hit was 2013's "Versace," which Drake later remixed.
Migos is on top of the hip-hop world at the moment. After they guest-starred in FX's Atlanta, creator and star of the show Donald Glover raved about them in his acceptance speech at the Golden Globes. He even went so far as to call them "the Beatles of this generation."
Tune in to the BET Awards Sunday night at 8:30 p.m. EST to see Migos perform, and find out if they take home a few prizes as well.