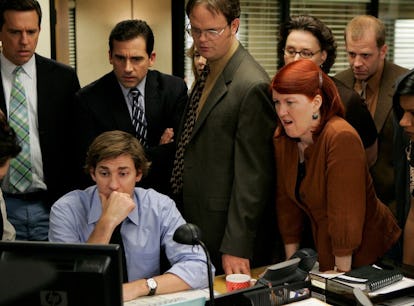 Find Out Which The Office Character You Are, Based On Your Zodiac Sign
Are you a Michael or a Toby?
NBC
NBC's The Office has a massive fanbase. The mockumentary-style series has captivated fans since its debut in 2005. The format makes it feel so realistic, which in turn, makes the characters feel more lifelike than most comedy characters. Even now, years after the series came to an end, fans can't help but compare themselves and their friends to The Office characters. It turns out, with a little help from the stars, it's easy to figure out which The Office character you are based on your zodiac sign.
Like any real-life workplace, The Office had a wide range of personalities on display, and it's safe to say that even if you don't think you relate to one of the show's characters, you know someone who is essentially Pam (Jenna Fischer), Kelly (Mindy Kaling), or Angela (Angela Kinsey) reincarnated. Also, I'm low-key sure everyone's encountered an office prankster á la Jim (John Krasinski), or a miserable Stanley (Leslie David Baker) type who just wants to go home at least once or twice in their lives.
While you probably already know which character you connect the most with, by figuring out your work bestie's (or your boss' or your crush's) zodiac sign, you can figure out who, exactly, their The Office character would be, and whether you'd want to stand in line with them on Pretzel Day.
All nine seasons of The Office are streaming on Peacock.
This article was originally published on