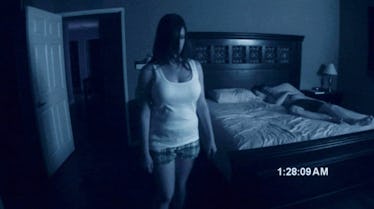 33 Non-Gory Horror Movies To Watch If Blood Just Isn't Your Thing
They're still scary, though!
REX/Shutterstock
Whether it's Halloween, a rainy night, or you're just getting tired of rom-coms, horror is a genre that's always a solid choice for a movie night. The problem is, a lot of the most popular scary shows and movies are usually filled with blood and guts. If slashers aren't exactly your speed, don't worry. There are plenty of non-gory horror movies to choose from if you're in the mood for a scare but don't want to feel squeamish.
While traditionally, you might think horror is synonymous with gore, that's actually not the case. Some of the scariest films in the history of cinema are less bloody and more thought-provoking. Traditionally, this was because movies without too much blood could score ratings that were under "R" (which meant more viewers and more sales). Now, however, it's because film buffs realize it's not necessarily the blood that makes movies scary, it's the tales they tell.
If you're a fan of ghost stories, Paranormal Activity or The Conjuring will scratch that supernatural itch. If you want something sexier, watch It Follows or Gerald's Game for horror films that also make great date night watches. Perhaps you want to stick with classic horror. If so, The Birds and Psycho are films everyone needs to see at least once. Whatever your taste, there's a non-gory winner that will make even the most hard-to-please horror buff happy.
Love this list? Create a Likewise account to save these recs to your own watchlist and follow Elite Daily for more. You'll always know exactly what to watch next.
This article was originally published on