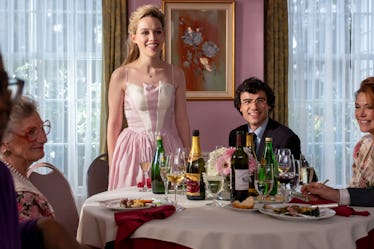 Here's Everything We Know About A Possible Haunting Season 3
Don't expect it anytime soon.
EIKE SCHROTER/NETFLIX
When The Haunting of Hill House first hit Netflix, it wasn't clear how popular the series would be. But after the follow-up season, The Haunting of Bly Manor, was a mega-hit for the streaming service, it was apparent there was a new hit anthology horror series in town. Fans have been waiting for some sort of hint that a new installment would come, and when a cryptic teaser dropped on Netflix's official Haunting Instagram and Twitter accounts back in 2021, it seemed like everyone was in luck. But is Netflix's The Haunting Season 3 *actually* in the works?
The first installment, The Haunting of Hill House, took its premise from author Shirley Jackson's book of the same name. It starred Victoria Pedretti, Oliver Jackson-Cohen, and Henry Thomas among a relatively well-known cast, with a closed-ended story that seemed to be a limited series type of show. But series creator Mike Flanagan had grander plans. The second installment in what seems to be a growing anthology series, The Haunting of Bly Manor, brought back Pedretti, Jackson-Cohen, and Thomas for a brand-new story, this one loosely based on the famous horror story, The Turn of the Screw.
Since then, fans have hoped there would be a new Haunting. But that doesn't seem to be the case anytime soon. In August 2021, Flanagan tweeted that there are no plans right now to make more Haunting seasons, as he's moved on to a completely new set of projects.
Flanagan once again zigged where fans expected him to zag. Although the official Netflix Haunting social media accounts showed some activity in 2021, it turned out it was not to preview a new Haunting installment.
One of those projects includes Midnight Mass, which was a big horror hit in 2021. In fact, it was Midnight Mass that caused a stir on the Haunting social media accounts, not a new Haunting season. But there's still hope for Haunting fans! First of all, if you haven't yet seen Midnight Mass, it has vibes very similar to Haunting. There are even several actors from Haunting who landed roles in the limited series, including Kate Siegel and Henry Thomas, who were in both Haunting seasons. Hill House cast members Annabeth Gish, Robert Longstreet, and Samantha Sloyan also turned up in Midnight Mass, as did Bly Manor actors Rahul Kohli and Alex Essoe.
Ever better, like Haunting, the Midnight series looks to be another anthology. Although Netflix billed it as a "limited series," Flanagan already has a follow-up, The Midnight Club, which finished filming in September 2021.
Plus, Flanagan's next project, a retelling of the famous Edgar Allen Poe story The Fall of the House of Usher, is already lined up to follow.
The Haunting of Hill House and The Haunting of Bly Manor are both streaming on Netflix, as is Midnight Mass. The Midnight Club is expected to premiere in 2022. It seems that those hoping for a return for a Haunting Season 3 will just have to keep waiting.
This article was originally published on