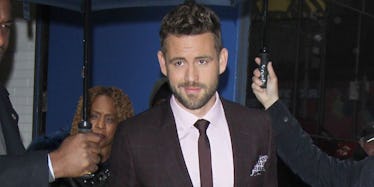 Nick Viall Calls Out A Former 'Bachelor' For His Tweets: 'Stick To Parenting'
REX/Shutterstock
Most of us wouldn't compete to fuck Nick Viall, given the chance, but as far as reality TV meat trophies go, he's proven to be the type that generates an entertaining season.
Nick's "Rambo"-style elimination spree and subsequent tearful breakdown on Monday's episode of "The Bachelor" could have been staged for our viewing pleasure, but everyone ate it up, for better or worse.
His decision to keep Corinne around for six episodes and counting — despite viewer theories suggesting she's actually an 11-year-old, plus her every action, plus every word that comes out of her cheese pasta hole — has also been a top-shelf offering to the gods of cheap dah-rah-mah.
Despite Nick doing all he can to keep us viewing and keep himself from ever having to sell software ever again, former "Bachelor" Sean Lowe threw Twitter shade his way during this week's episode.
He criticized Nick for keeping (THE VERY WATCHABLE TREASURE THAT IS) Corinne on the show for so many weeks.
This is a televised boning competition, Sean, not two uggo nobodies monogamously feeling each other up in un-televised private and then ending the night at Chili's.
Then, he came for Rachel.
Oh, so NOW you understand how television works. Be more consistent, Sean.
Next, he hit us with what one can only assume was a Whitney burn.
Honestly, same.
Nick went in like a total savage and replied to a tweet in which Sean mentioned his son, Samuel.
This got very Jay Z/Nas very quickly, but it's been a long time since anyone bumped "Supa Ugly," so let's go with it.
Sean fired back with "ZING!!!"
This is a lazy comeback, but Nick didn't exactly break a sweat with "stick to parenting," either.
At least we know if Nick can't commit to a life of love and happiness with one exceptional woman, he can get in petty Twitter feuds with other grown men. So, that's... cool.
Citations: Bachelor Nick Viall Takes Issue With Sean Lowe's Good Tweets (Refinery29)