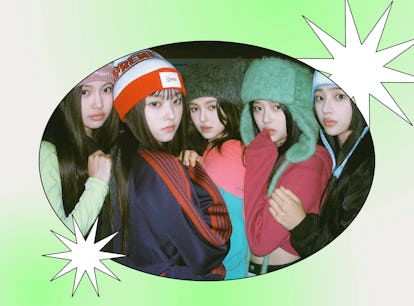 Here's Why NewJeans' Groovy "OMG" Dance Is All Over Your FYP
Rina Sawayama is a fan, too.
Photo Courtesy of ADOR
Let's be honest: Ever since NewJeans debuted last summer, the group has released nothing but hits. There's no way you can listen to their self-titled EP without humming those honeyed hooks from "Hype Boy" or "Attention," which have become trending sounds on TikTok since their release. Seriously, their music is just that good. The group's latest single, "OMG," has also received TikTok's stamp of approval, but not only for its trap-infused melodies. The dance routine in the track's music video has become a challenge all over the site's FYP, catching the eye of artists like Rina Sawayama and SEVENTEEN.
When it comes to nailing NewJeans' choreography, it's all in the groove and charisma. Their moves tend to mirror the highlights of their music, such as how their uniformed swaying glides the way their lyrics flow against a certain production. That rhythmic flare tends to come alive in the chorus of their songs, and that's what makes the dance in "OMG" so unforgettable. On Jan. 3, the group shared the choreography to the track's chorus on TikTok, which sees the members playfully confessing their love for a crush. This would eventually become the challenge.
Building up to this section, the members do the Harlem Shake— and no, not the infamous Vine trend where everyone would flail their bodies around to a techno beat. The shake in question stems from the late Al B, a street dancer who used to entertain during basketball tournaments in Harlem, according to NPR. The original Harlem Shake starts with a quick shimmy while swinging your arms back and forth, and NewJeans briefly rocked this routine before stepping into the chorus.
While cooing "Oh my God" twice, the members burst into a bouncy side-step to the left as their left hand rests on their head. They briefly switch to their right hand, before lowering into a dipping motion (a.k.a, the Cat Daddy) that syncs with the production's brazen sneers. The group then repeats their initial side-step, but to the right this time with their right hand by their head.
Shortly after, they engage in a slower, one-sided remix of the Chicken Head dance. This dance (which still lives in my head rent-free thanks to Chingy's "Right Thurr") requires you to quickly shift your hips side-to-side while simultaneously grooving your arms. However, NewJeans slows the tempo of this move and keeps it present on their right hip. They then hop into a series of shuffles, which sees the girls dipping into ankle-breaking slides and twirls until they all pose.
Now, these aren't the easiest moves, especially if you're lacking in coordination and a sense of flow. The group makes the choreography look effortless, and adds a bit of spunk to certain moves that influence you to scramble to your feet. On Feb. 11, a little over a month after NewJeans posted the dance routine, members Haerin and Hanni teamed up with a few members of SEVENTEEN to take on the challenge. In both the group's usual fashion, they ate this dance routine up and left no crumbs.
Rina Sawayama also hopped on the dance craze while on her Hold The Girl world tour. While performing in Paris on Feb. 15, Rina naturally interpolated the NewJeans dance into her set of "XS," and the genre-bending darling didn't miss one beat. She also didn't tinker with the tempo of the routine to fit into "XS," as it matched perfectly with her rock-pop synths.
It seems that Rina is a Bunny, NewJeans' name for their growing fandom, so seeing her gush over the choreography is heartwarming. While attending the Brit Awards on Feb. 11, she revealed "OMG" has been on constant rotation for her. OK, talk about taste. She also shared that she was currently learning the dance routine; however, she didn't hint that she added it into her concert set.
"I've been trying to learn the dance in my bathroom and it's actually really hard. It's a lot of hand-to-foot coordination," she said, adding that she would only share her partaking in the challenge if she aced the choreography. Clearly, by the looks of her TikTok, she absolutely devoured the dance.
It's riveting to see "OMG" and those jittery 808s take a life of its own on TikTok. The footwork in this choreography is insane, and sits in a top tier of NewJeans' most pleasing dance routines. Personally, "Hype Boy" takes the cake as first. Sorry, not sorry. Similar to their other music videos, it seems like the members are having fun on "OMG." There's such a fluid carefreeness oozing throughout this routine, so it makes sense why it became a trend.